Successful middle schools put students on the right path toward success in high school and beyond. Here in California, a significant number of charter public middle schools secured top rankings in this year's U.S. News and World Report Best Middle Schools list.

U.S. News analyzed over 7,000 middle schools in the Golden State. Check out which charter middle school made the Top 100 list in 2023-2024!
TOP RANKED CHARTER MIDDLE SCHOOLS
Ranked #8 – Bullis Charter (Los Altos)
Ranked #14 – Orange County School of the Arts (Santa Ana)
Ranked #27 – Hollister Prep (Hollister)
Ranked #42 – Western Center Academy (Hemet)
Ranked #43 – Oxford Preparatory Academy – South Orange County (Mission Viejo)
Ranked #51 – Pacific Collegiate Charter (Santa Cruz)
Ranked #64 – College Preparatory Middle (Spring Valley)
Ranked #67 – Arroyo Vista Charter (Chula Vista)
Ranked #77 – Charter School of Morgan Hill (Morgan Hill)
Ranked #83 – San Carlos Charter Learning Center (San Carlos)
Ranked #85 – Discovery Charter (Chula Vista)
Ranked #90 – Mission Preparatory (San Francisco)
Ranked #92 – John McCandless Charter (Stockton)


>> LEARN MORE: Click here to understand the unique role and mission of California's charter public schools.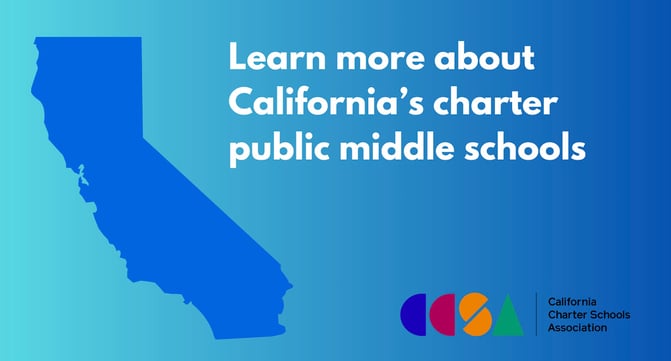 >> DID YOU KNOW? According to a 2023 study released by Stanford University's Center for Research on Education Outcomes, students in California's charter public schools gain the equivalent of 11 days of reading and 4 days of math compared to similar students in traditional public schools.