California's first fully operational zoo-charter public school is set to open its doors this fall in Fresno, putting the Central Valley on the map for reimagining the learning environment for all children, especially underserved students.
Golden Charter Academy was approved by the Fresno Unified School District this week and will be located just steps away from the Fresno Chaffee Zoo.
The concept for a zoo-charter public school in Fresno has been deliberated for many years, but it took the star power of a hometown celebrity to make it happen: Robert Golden, a former NFL player for the Pittsburgh Steelers and the Kansas City Chiefs.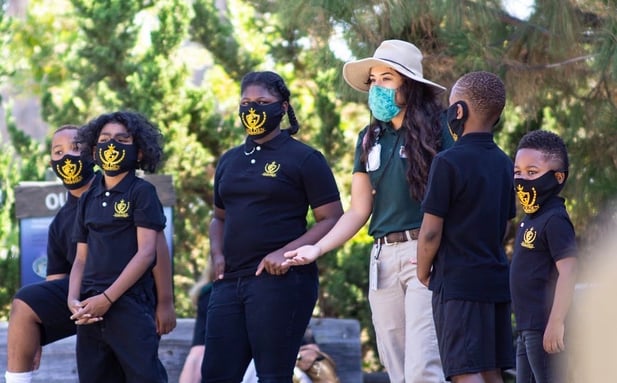 Prospective Golden Charter Academy students tour the Fresno Chaffee Zoo. Photo courtesy of Golden Charter Academy.
"It's been a long journey, but we're excited to advance our mission which is 'Inspiring Powerful Young Minds,'" says Golden, who is President and CEO of GCA. "At the very beginning, I told everyone I wanted to create the Disneyland of schools, a place where every child, especially our underserved students, will have fun and fall in love with learning."
Golden grew up in southwest Fresno, an inner-city neighborhood where he says drugs and gangs are prevalent. For Golden, football lifted him out of poverty and into a career as a professional athlete.
In 2018, he requested a release from the Chiefs so he could tackle a new goal in life: To make a difference in the lives of young people in his hometown, in his old neighborhood.
Check out CCSA's recent interview with Golden about his passion for the school:
Golden's efforts have attracted national attention, as well as the attention of current NFL superstar Eric Kendricks, a middle linebacker for the Minnesota Vikings and the team's nominee for the 2020 Walter Payton NFL Man of the Year.
While Kendricks and Golden never played professional football together, their lives followed a similar path.
Kendricks – who is three years younger than Golden – also grew up in Fresno and both men played in the same high school football league. Kendricks says he's been keeping an eye on the development of Golden Charter Academy.
When the NFL gave Kendricks $40,000 to donate to an organization or nonprofit of his choice as the Vikings' pick for Man of the Year, the linebacker decided to give that money to GCA.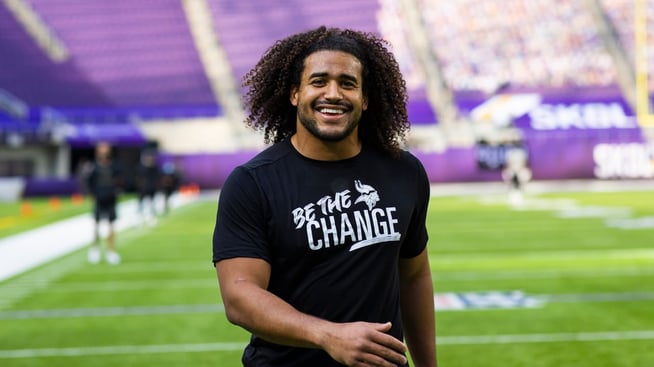 Eric Kendricks is a middle linebacker for the Minnesota Vikings and the team's nominee for the 2020 Walter Payton NFL Man of the Year. The Fresno native donated $40,000 to help Golden Charter Academy establish itself in Fresno. Photo courtesy of the NFL.
"It's huge," Golden says. "I'm just so thankful that he saw fit to invest in his own community, and in this school, which will help change the paradigm of education."
Currently, there is no other zoo-school in California. While some public school districts offer zoo-magnet programs, none of them are located near zoo grounds.
Because the Chaffee Zoo is a founding partner, the school's proposed instructional plan is centered on an academic framework called environmental stewardship which focuses on educating students about sustainable living practices and the environment so that they become good stewards of the planet.
Complementing the school's environmental focus is GCA's proposed "placed-based" educational model which allows educators and students to take their learning on the road – conducting project-based research in nearby Yosemite National Park and the San Joaquin River.
"The partnership between GCA and the Chafee Zoo is a game changer for the Central Valley," says Marco Lopez, CCSA's Director of Local Advocacy in the Central Valley who has been working alongside GCA to get its charter approved. "The school has put forth a unique academic program and has assembled a team of seasoned academic leaders that will positively impact his community and students alike."
Fresno Unified approved GCA's charter for five years and will open in August 2021 with transitional kindergarten and grades K-3. While the new campus is being built, the charter school will be temporarily located at Our Lady Victory Catholic School in west-central Fresno.
To find out more about Golden Charter Academy, check out its website: https://www.goldencharteracademy.org/
---
This blog story was written by Ana Tintocalis, CCSA's Director of Media Relations and Research. She is a frequent contributor to the CharterNation Blog. Got a good charter school story? Contact her at atintocalis@ccsa.org.