Roughly 2,600 charter school leaders, educators, supporters, and allies converged on the State Capitol last week for the annual CCSA California Charter Schools Conference which offered attendees four incredible days of joy and inspiration that built connectivity within the state's charter school movement.
Here are the 10 most memorable moments at this year's conference:
1. Stellar Programming
Without a doubt, the top of this list has to be the incredible lineup of sessions and workshops attendees participated in over the course of the four-day event. About 200 breakout sessions were specifically chosen to help conference-goers increase their capacity, skills and knowledge in the areas that mattered to them — whether it was curriculum and instruction, data and accountability, charter school finance, charter school law and policies, health and wellness, or communications and messaging. Connect and Engage sessions gave attendees a structured but more informal space to network, exchange ideas, and seek advice at a more personal level.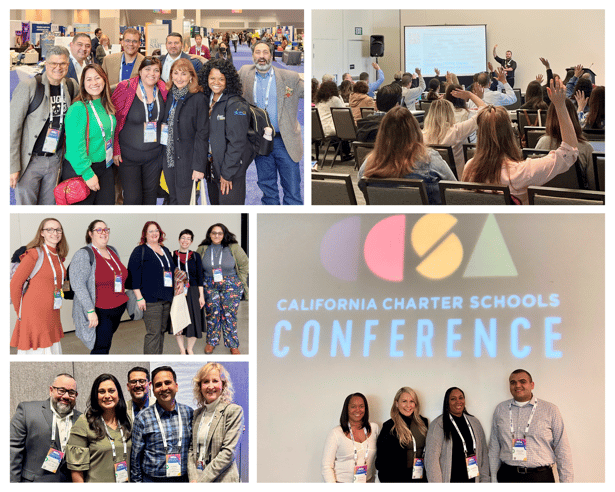 2. Exceptional Charter Schools & Leaders Take Center Stage
The Hart Vision Equity & Innovation Award is a new honor presented to charter schools and educators with a track record of achieving academic excellence for all students, supporting historically underserved students, and being beacons of creativity and innovation. Here's a list of winners! Click the video links for their amazing stories:
Hart Vision Equity & Innovation Schools of the Year
James Jordan Middle School, Reseda
>> Watch Video

Renaissance Arts Academy, Los Angeles
>> Watch Video

The Preuss School UCSD, San Diego
>> Watch Video
Hart Vision Equity & Innovation Leader of the Year
Shara Hedge, Alpha Public School, San Jose
>> Watch Video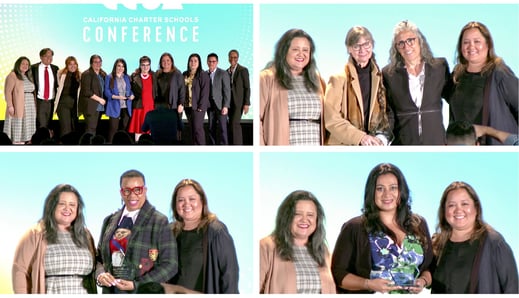 3. Charter School Pioneers Honored

Three distinguished charter school leaders were honored with the Hart Vision Legacy Award because they've transformed the lives of countless students and supported forward-thinking practices. Watch the videos to understand their impact:

Hart Vision Legacy Awardees


Malka Borrego

, Equitas Academy Charter Schools


>> Watch Video



Debbie Tarver

,

LaVerne Elementary Preparatory Academy & Desert Trails Preparatory Academy


>>Watch Video



Diane Tavenner,

Summit Public Schools




>> Watch Video




4. Former CA Governor Jerry Brown Makes An Appearance
Former Governor Jerry Brown made a rare appearance at our conference via a special video that was broadcast during General Session on Day 2. CCSA recognized Brown with the Hart Vision Award for Supporter of the Year for his long-standing commitment to California's students and the charter school movement. Brown founded two charter schools in Oakland – Oakland Military Academy and Oakland School for the Arts. In the video, Brown speaks with CCSA's President and CEO Myrna Castrejón at his ranch in Colusa County about the critical role charters play in public education. Check it out:
5. School Tours
CCSA organized school site visits to local charter schools so attendees could see best practices in action. Each school tour focused on a special area of interest: Career Technical Education, Creative Facility Design and Operations, Serving Latino Students with Excellence, and TK Implementation. With CCSA as their guide, conference-goers hopped on buses and experienced a "hands-on" approach to professional development!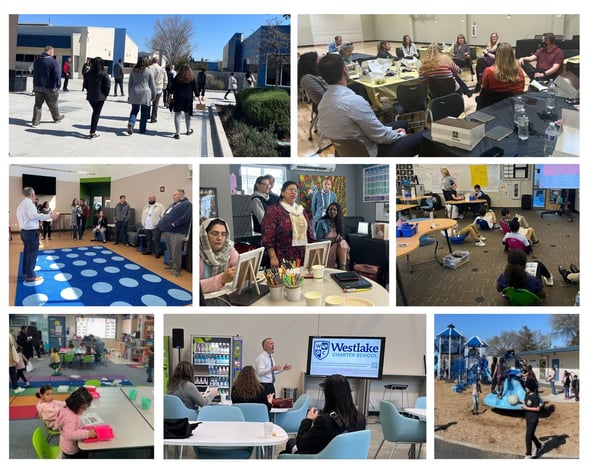 6. Keynotes Hit A High Note
Dr. José M. Hernández (General Session Day 2)
From farmworker to astronaut….that was the personal and powerful story that Dr. José M. Hernández offered as the conference's opening keynote speaker. José spent his childhood moving back and forth from California to Mexico as the son of a migrant farm-working family. The trajectory of his life changed after José's grade school teacher visited his parents and explained how their transitory lifestyle was negatively impacting their children's academic progress.
Myrna Castrejon & Hardy Brown (General Session Day 3)
Reflecting on her fifth year as President and CEO of CCSA, Myrna Castrejón praised the charter community for enduring the "hardest and most trying" years in public education due to the pandemic and "doing whatever it takes" to prevent learning loss and offer wraparound services to children and families. She called on everyone in the charter movement to "re-anchor" to the purpose and intent of charters schools.
Following Myrna's appearance, Hardy Brown offered an eloquent keynote about historical empathy. A national leader in conversations about historical empathy and resilience, Hardy inspired and challenged attendees to "learn to walk in someone else's shoes" and "have conversations with people who look differently than you" in order to realize the greatness of who we are as a people.

7. CCSA Announces "Renewal Relief" Legislation
CCSA's Conference served as the backdrop for the announcement of SB 739, a bill authored by CA Senator Marie Alvarado-Gil and sponsored by CCSA which would extend the charter school renewal period by an additional two years. The need for an extension is the most urgent topic right now among many charter public schools in California. Click play to watch the press conference:
8. Legislative Visits At The Capitol
Attendees were also able to participate in Legislative Visits at the State Capitol during conference this year. For example, charter school leaders met with CA Assemblywoman Tina McKinnor (District 61) in her Capitol Office to share how their schools have continued to serve students and families through the COVID-19 pandemic, and how they're now focused on getting students back on track.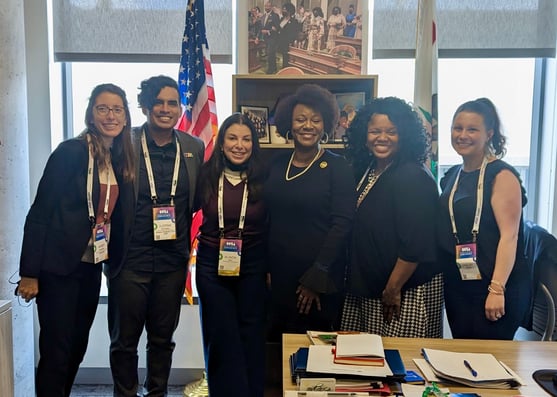 9. Sparkling Bubbly & Sweet Treats
What would an amazing conference be without an amazing after-hours party?! Attendees were treated to a Wednesday Night Party at the Sheraton Grand Hotel where they mixed and mingled, sipping sparkling beverages and sampling lots and lots of chocolate treats! Attendees were also treated to a performance by a Cirque du Soleil-inspired acrobat and violinist!
10. CCSA's Personal Thank You & Send-Off
And last, but certainly not least, to express our sincere appreciation and gratitude for all the life-changing work that attendees do on a daily basis, each CCSA staff member decorated colorful signs and formed a dancing '"thank you" circle on the last day of conference as attendees left the venue.
Until next time..... We're already busy planning for more memorable moments for next year's conference in Long Beach, March 18-21! Mark your calendars and check back for more details!