Every year, CCSA commissions an annual poll conducted by Goodwin Simon Strategic Research to understand public sentiment about California's public education system and what parents find most important in their child's public education.
This year's findings add to the growing body of evidence that Californians are much more open-minded than ever before when it comes to supporting charters and considering charters as an option for their children.
Here's a breakdown of the top 4 proof points that show California voters are changing their minds about charter public schools:

1. Support for Charter Public Schools Breaks Last Year's Record
The absolute best piece of evidence that proves California voters are more open to charter public schools is this data point: 57% of California voters now support charters, up from 55% last year. The charter school movement in California has gained considerable ground with increasing charter school support, which is up 10% from 2020.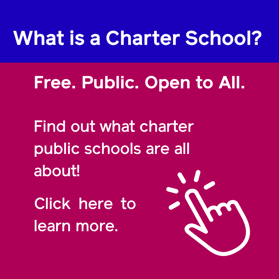 On top of that, support for charters is even higher among Latino voters at 58%.
Another big proof point: Knowledge about charters is growing among Californians. This year's poll shows that 69% of voters say they know "quite a bit or some" about charter public schools, up by 12% since 2020.
That data is a pat-on-the-back for California's charter school movement which has been working hard to increase basic awareness about charter public schools via community outreach and amplifying "Charter 101" information. Both state and national charter advocates say the more voters know about charter public schools, the more likely they are to support charter public schools.
Lastly, more than half of voters surveyed for CCSA's annual poll believe charter public schools are providing a high-quality education in California. That reinforces findings in a Stanford University report that found California charter public schools are outperforming other public school options.
"Voters recognize that charter public schools are reimagining public education by providing students with high-quality educational opportunities and programs that meet their unique needs to succeed. The flexibility and autonomy that is the hallmark of charter public schools are attractive to parents looking for more options for their kids' education," said Myrna Castrejón, CCSA's President and CEO.
2. More Voters Believe Parents Have the Right to Choose Charters
A silver lining to the pandemic is that more parents are now aware of different public school options beyond traditional, district-run programs. In addition, more Californians believe major changes are needed within the state's K-12 system.
That explains why a whopping 85% of California voters polled believe parents should have the right to choose a charter public school if they think it is better for their child.
The "right to choose a charter" sentiment resonated the deepest among Latino parents with 88% believing they should be able to choose a charter if they think that is a better option for their child.
3. More Parents Would Consider Sending their Child to a Charter Public School
According to a national study, more families turned to charters public schools during the pandemic as an alternative to traditional district-run options. CCSA wanted to gain additional insight into whether families are still as open-minded to charters now.
The survey asked voters this question: Would you consider sending your child to a charter public school?
Their answer: 65% of parents polled say they would now consider enrolling their child in a charter. This sentiment resonated deepest among Latino parents, with 74% saying they are now open to sending their child to a charter.
That's a big win for the state's charter public schools which are continuing to implement strategies and tactics aimed at increasing enrollment in this post-pandemic era.
4. Positive Attitude Towards Charters Increases in the Bay Area and Los Angeles
Over the past decade, California's charter school movement has been working with grassroots community leaders and organizations to establish or expand charter schools, as well as to increase charter school favorability in the state's two largest urban areas – the Bay Area and Los Angeles.
This year's annual poll findings show those efforts are paying off.
In *Los Angeles, home to the largest population of charter public school students in the state, an incredible 87% of L.A.-area voters believe parents have the right to choose charters if they think these schools are better for their child. In addition, 73% of L.A. parents would consider a charter for their child.
Meanwhile, in the *Bay Area, 82% of parents would now consider a charter, while 83% believe parents have the right to choose a charter.
"Families living in the Los Angeles area and the Bay Area want to see change come to the public education system. This poll reflects a trend that has grown over recent years and I encourage charter school educators, families, supporters, and allies to continue advocating for more options within their local public school systems," says Castrejón.
>> Take a deep dive into CCSA's annual poll! Click the link for a slide deck with visuals that underscore the findings: 2023 Annual Voter Survey Findings
---
*Los Angeles Designated Market (DMA) covers Los Angeles, Riverside, Ventura, Orange, and San Bernardino counties. More than 300,000 public school students attend a charter public school in the five-county LA DMA, making up 44% of overall charter student enrollment.
*San Francisco Designated Market (DMA) covers the nine Bay Area counties: Alameda, Contra Costa, Marin, Napa, San Francisco, San Mateo, Santa Clara, Solano, and Sonoma. More than 100,000 public school students attend a charter public school in the Bay Area, making up 15% of overall charter student enrollment.