Roughly 37,000 students who attend California charter public schools are Asian American Pacific Islander (AAPI), representing about 5% of all charter school students in the state.
One charter public high school that serves a sizable AAPI student population is Granada Hills Charter (GHC) in Granada Hills– one of the largest and most diverse charter schools in the U.S. which is commemorating its 20th Anniversary this year.
Twenty-five percent of GHC's high school students are AAPI -- 16% Asian, 8% Filipino, and 1% Pacific Islander. Many of those students say they feel a special connection to the campus community because there is a collective appreciation of all cultures and heritages.
Other students like sophomore Amber Tran, who is Vietnamese, say attending GHC high school has been a transformational experience because educators not only lift-up AAPI narratives and perspectives, but they also offer culturally relevant instruction.
In celebration of AAPI Heritage Month, we bring you Amber's personal essay about a life-changing moment in which she finally "saw herself" represented in novels in a freshman English class at GHC high school.
---
My school's approach to representation and multiculturalism changed my life
By Amber Tran (Grade 10)
I can trace my love for language to a cramped, stucco-ceilinged bedroom in San Diego, hunched over an illustrated children's book with my grandma.
Stumbling over sharpened vowels and muted commas, we enveloped ourselves in the English language.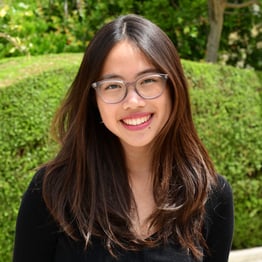 As a Vietnamese immigrant, my grandma approached these makeshift English lessons as a means of survival – as a means of understanding street signs and buying groceries.
For me, I approached these lessons as an opportunity to explore the vastness of language – a sentient entity to befriend.
I learned the soft cadences of my grandmother's "cháu ăn chưa?"– have you eaten yet? – and the quiet strength of immigration. I learned that in the space between two languages, writing offered me an alternative route – one where my grandma's fragmented English was not a hindrance, but a form of poetry. I found that in writing, I could simply be, uninhibited by forced identities and preconceived stereotypes.
It wasn't until I started attending high school at Granada Hills Charter (GHC) that I began to see this cultural representation and appreciation within literary works.
My freshman English teacher introduced me to memoirs and essays like Crying in H-Mart by Michelle Zauner and No Name Woman by Maxine Hong Kingston — AAPI authors that I could see myself and my communities in. In the shadow of constant cultural insecurity and doubt, these stories captured my uncertainties and stretched them until tangible – they transformed them into language.

A series of books by AAPI authors -- courtesy of Third Place Books
I can say with absolute confidence that GHC's approach to representation and multiculturalism has changed my life.
In these texts, I was granted the opportunity to know myself intimately and without judgment. Moreover, seeing myself reflected in academic authors inspired me.
It is in this freshman English class, under my teacher's instruction and encouragement, that I learned that I could be someone – that I could want more, dream bigger, and take up space unabashedly. It is here that I learned I wanted to write for a living.
My experience at GHC has taught me that education holds the distinctive power to transform. My teachers have given meaning to the word "empower."
With this knowledge and the resources to reimagine a world grounded in community and justice, I began work as a youth leader for the Center for the Pacific Asian Family, an organization dedicated to promoting nonviolence in AAPI communities. From there, I established In the Face of Violence, an initiative taking on a youth-based approach to preventing AAPI family violence.
In education, we can celebrate AAPI Heritage Month by continuing to empower our AAPI youth. We can work towards creating a world where youth are granted the space to be just that– where they don't need to unlearn shame or distance themselves from their mother tongues.
We can re-envision a future where our support flows uninterrupted, our identities demarcated only by pride.
---
This CharterNation blog article is a collaboration between CCSA and Granada Hills Charter (GHC) through CCSA's Guest Blogger partnership. If you belong to a CCSA member school and would like your school's content featured on the CharterNation Blog, please email atintocalis@ccsa.org.