This month, CCSA launches the Face of Charter School Success alumni series as part of its yearlong 30th anniversary celebration of charters in California. From now until the end of this year, we'll spotlight the accomplishments of charter school alums in the Golden State and how they're shaping the future.
This week, we introduce you Aryanna Baytop – a talented dancer and business-minded leader from the Class of 2021 at Granada Hills Charter High School.
---
Aryanna Baytop remembers being awestruck when she first stepped on campus as a freshman at Granada Hills Charter High School in Los Angeles.
"It was just big and beautiful," she recalls. "It looked like a high school you'd see in a Hollywood movie."
GHC is both an academic and athletic powerhouse in California. This award-winning charter public school has an extremely diverse student population and a strong college-going rate -- especially among its students of color.
Aryanna is from GHC's Class of 2021 and was profiled as one of the school's standout grads in this special video:
She is completing her first year at Tulane University in New Orleans, Louisiana, where she is studying business. She says living and studying in New Orleans has been life changing.
"New Orleans is very, very rich in culture," Aryanna said. "The people, the food and the architecture ... I always like walking down the streets and taking it all in."
Thanks to GHC's robust college counseling programs and support, Aryanna was able to secure a Posse Foundation Scholarship to attend Tulane. The national award is given to an ethnically diverse group of students across the country every year who are proven leaders in their communities.
Aryanna is the daughter of a biracial family – her parents are Black and Hispanic. She says attending GHC was one of the best experiences in her life because students from all ethnicities and backgrounds are welcomed and supported at the school.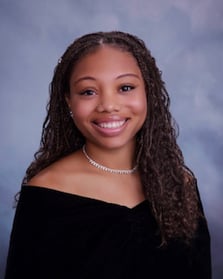 "It's melting pot at Granada," she said. "Students of color are given the same resources that students at private schools receive … it is very empowering. As a student at GHC, I didn't feel left behind."
One of GHC's greatest strengths is its talented and multidisciplinary teaching staff who lead a wide variety of honors and Advanced Placement courses to truly prepare students for life after high school.
"Being at Granada Hills, there are so many opportunities to learn, to be the best person you can be, and to be the smartest person you can be," Aryanna said. "I feel like the academic rigor and all my AP classes prepared me for what to expect coming into college. I don't feel like it was too much of a transition as far as finding my new study habits and getting the best grades I can get [at Tulane]."
During her time at the charter public high school, Aryanna was able to focus her studies on business and economics thanks to GHC's Granada Guaranteed Curriculum.
The academic preparation at GHC has set her up for success as a freshman at Tulane where she's majoring in Legal Studies in Business and Business Management at the A.B. Freeman School of Business at Tulane. She also plans to minor in Economics.
"I want to be an executive. I want to be the boss," said Aryanna with a smile. "I'm still exploring my options but having legal studies when you're in business is a good foundation."
In addition to managing her coursework, Aryanna is also an extremely talented dancer and was able to hone her performance skills on GHC's dance team. She is now a dancer on Tulane's Shockwave Dance Team which performs regularly at sporting events and in the community.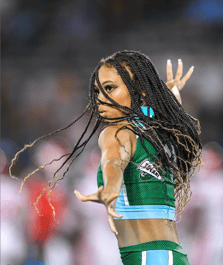 On top of that, Aryanna also volunteers for community service projects in New Orleans. The Tulane freshman says her mother and father are both extremely proud of everything she has accomplished thus far, but she says they also encourage her to pace herself.
"My mom actually tells me to remember that my grades are more important and to slow down," Aryanna said.
For now, there is no slowing down Aryanna who is excited about what the future holds. This multitask-master says in addition to her university coursework, she is now taking real estate classes outside of college.
"A lot of businesspeople do the same thing and I feel like getting my license would be a great thing to have."
TUNE IN: Aryanna Baytop explains how her experience at GHC prepared her for life after high school on this episode of CCSA's CharterNation Podcast:
LEARN MORE: Interested in learning more about Granada Hills Charter High School? Check out its website by clicking here.
---
This blog story was written by Ana Tintocalis, CCSA's Senior Director of Media Relations and Editorial Content. She is a frequent contributor to the CharterNation Blog. Got a good charter school story? Contact her at atintocalis@ccsa.org.