CCSA continues its Face of Charter School Success alumni series as part of its yearlong 30th anniversary celebration of charters in California. This week, we introduce you Luis Ortega – a Latino scientist from the Class of 2014 at St. HOPE's Sacramento Charter High School in Sacramento.
---
Luis Ortega had a knack for solving mathematical problems at an early age.
He credits his father, an immigrant from Mexico, who made a living as a skilled mason building large in-ground pools. Throughout his childhood, Luis remembers observing and helping his father execute large-scale construction plans in clients' backyards.
"I always thought to myself, 'I wonder if I'll ever have enough money to own a pool one day,'" Luis recalls.
Luis loved going to school and earning good grades – and naturally his favorite subject was math. But his life began to unravel in middle school after his father and mother, who were both undocumented immigrants, finally told Luis that he was undocumented too.
"[My parents] sat me down and told me that they brought me to the United States when I was four years old," said Luis, who was 13 years old when his parents revealed his status in 2009. "From that point on, I was really affected."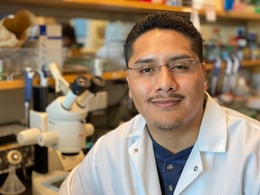 Luis became fearful of law enforcement. He gave up doing well in his classes because Congress had not yet authorized Deferred Action for Childhood Arrivals (DACA) or the DREAM Act.
"In my mind, there was really no hope for a future at school," Luis said. "Even if I got a 4.0 GPA in high school, I still wouldn't be able to get any scholarships or even attend college because of my status."
Luis started getting in trouble outside of school and "mixing with the wrong crowd." He had been a charter school student at St. HOPE Public Schools in Sacramento but decided to leave the charter high school campus -- Sacramento High School -- to attend a traditional district high school during his freshman year.
That change, however, sent his academic and personal life into a tailspin. Luis got into fights with other students, had run-ins with police, and dropped out of high school.
Soon after that, Luis realized he had hit rock bottom.
Through the constant urging of his parents, Luis eventually enrolled in a continuation school, which proved to be a pivotal point in his life. He finally realized that education was the only way to better his life. His teachers at the continuation school, in turn, immediately recognized Luis was a gifted student.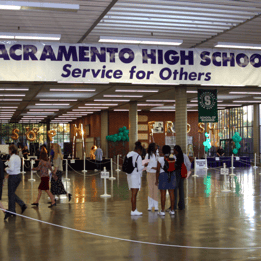 "I would often stay up all night and reteach myself everything to make sure I got all the concepts. I think that's where I developed real self-discipline," Luis explained. "The teachers [at the continuation school] saw the work I was putting out and encouraged me to return to Sacramento High School."
Upon regaining his academic footing in continuation school, Luis decided to re-enroll in St. HOPE's Sac High School as a junior and was welcomed by supportive teachers and counselors who provided the additional support and resources which he needed to realize his true potential.
Luis' passion for math and chemistry grew his senior year at Sac High, resulting in his decision to pursue these subjects in college.
By then, Congress had approved both DACA and the DREAM Act, allowing non-citizens who were brought to the U.S. as children – like Luis – to live, study, and work in local communities—contributing to the economy and future of the country.
Through the help of Sac High's counselors, Luis secured scholarships and applied to his "dream" school, UC Davis, which was a 30-minute drive from his family's home in Sacramento.
With a renewed purpose in life, Luis committed himself to his college coursework and was soon introduced to UC Davis' Biochemistry and Molecular Biology program.
"I initially became interested in biochemistry and molecular biology through a friend who was already in the program," Luis said. "I soon realized that this area of study combined everything I loved about math, science, medicine, and chemistry. So, I decided to pursue it as my major."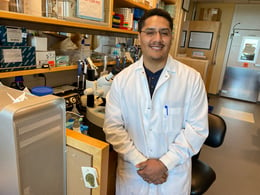 But earning top-notch grades in the program's competitive, arduous, and demanding classes was an uphill battle for Luis. After receiving below average grades in some of his classes, he reluctantly decided to withdraw from UC Davis to enroll at a community college and retake some of the prerequisites needed for a biochemistry and molecular biology major.
"It's almost like I wanted to reteach myself all over again," Luis said. "I just never gave up."
He says his nieces and nephews were a big source of motivation at this point in his life.
"I knew they would need someone to look up to as a role model. Growing up, I didn't have that. I wanted to show them that they could also graduate high school and get into whatever college they wanted to."
Luis persevered and – a few years later – re-applied to UC Davis' Biochemistry and Molecular Biology program and was accepted.
Feeling more confident and wiser, Luis took advantage of a multitude of academic services and support to help him perform well in his classes. He also pursued a mentorship with Marc T. Facciotti, one of the department's preeminent professors who personally invited Luis to help conduct cutting-edge research to advance regenerative medical options for elderly patients whose bodies cannot recover from broken bones and fractures.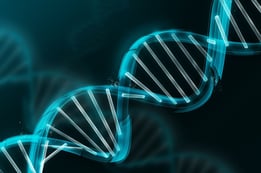 "Taking part in Professor Facciotti's research was the opportunity of a lifetime," Luis said, who works in a special lab at UC Davis running tests and tracking outcomes as part of the project. "I've already got some job offers lined-up, so now it's a matter of where I want to work versus whether I'll have a job after college."
According to the National Science Foundation, only 9% of scientists in the U.S. are Latino men. Luis realizes he's in the minority within this field but is encouraged by the number of Latino college students he sees entering science programs at UC Davis.
2022 is a big year for Luis.
Not only does he complete his research project, but he also graduates from UC Davis after eight years of working towards his Bachelor of Science at the university.
While there have been several educators who inspired him throughout his life, Luis credits the teachers and counselors at Sacramento High School for not giving up on him and helping him realize his college dreams.
"I'm not the average success story," he said. "I've had hiccups along the way, but now that I'm about to graduate UC Davis, it feels unreal. I almost can't believe it. I knew it was going to take me longer, but here I am, and I'm so glad."
---
This blog story was written by Ana Tintocalis, CCSA's Senior Director of Media Relations and Editorial Content. She is a frequent contributor to the CharterNation Blog. Got a good charter school story? Contact her at atintocalis@ccsa.org.