The CharterNation Blog brings you a new ongoing series called Paying It Forward which profiles charter public school graduates who are giving back to their charter public school community. This week, we feature Wendy Sanchez from the Class of 2013 at Aspire Pacific Academy in Los Angeles.
---
Wendy Sanchez didn't know or hear the word "college" until she was in middle school.
Up until that time, Wendy says she attended schools where educators didn't set high expectations for their students or take time to understand their potential.
In fact, one of Wendy's teachers told her mother that she would likely be a high school dropout.
"Due to my poor writing and speaking skills, the teacher told my mom that I probably wouldn't make it through high school," Wendy recalls. "My mother left that meeting crying. From that point on, I realized that teachers have a big influence on whether or not you will succeed in school."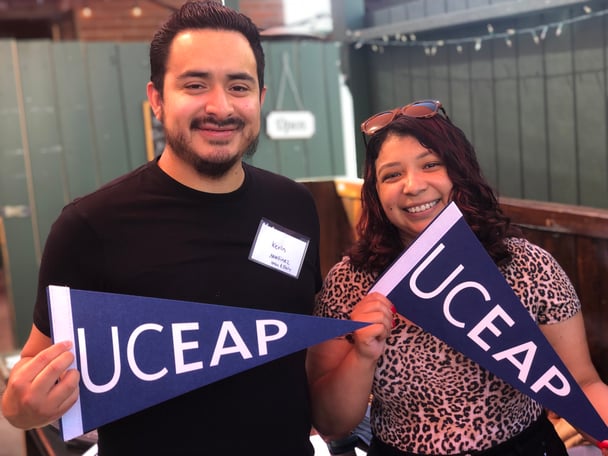 Wendy is the oldest of three children in her family. Her mother, an undocumented immigrant from Mexico, raised them on her own and worked a series of jobs to pay the bills. Wendy was chronically absent from school because she'd often have to take care of her younger siblings, especially her brother who was often sick and in the hospital. At one point, the entire family was homeless.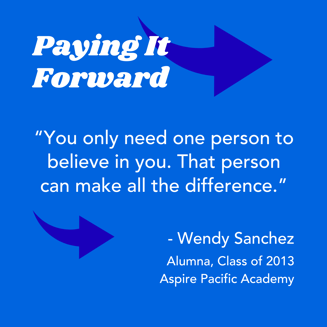 Being absent so often negatively impacted Wendy's education and she never received the academic interventions to overcome that learning loss. But her life took a dramatic turn when she began attending Aspire Centennial College Preparatory Academy in Huntington Park, a charter public school in southeastern Los Angeles that is part of the Aspire Public Schools charter school network.
Wendy says at Centennial College Prep, she finally felt recognized by her teachers who continually used assessment data to fully understand her learning gaps and identified strategies to address those gaps. They also exposed Wendy to what college was all about.
"I thought after high school, that was it. I had no idea that college was even an option. But at Centennial College Prep, I learned the differences between four-year universities, UC and CSU, and community colleges."
Wendy made a complete academic turnaround at Centennial College Prep and she decided to stay within the Aspire network for high school. Fortunately, Aspire opened a new charter public high school in Huntington Park during that time called Aspire Pacific Academy and Wendy was part of its first freshman class of students.
With its college-prep focus, Wendy took the A-G courses required to be eligible for UC and CSU admission, learned how to navigate the college application process, and applied for financial aid and scholarships.
Her perseverance paid off. She was the first person in her family to graduate and was accepted to UC Riverside, Sonoma State University, CSU Dominguez Hills, CSU Long Beach, and CSU Fullerton. In the end, she decided to attend UC Riverside.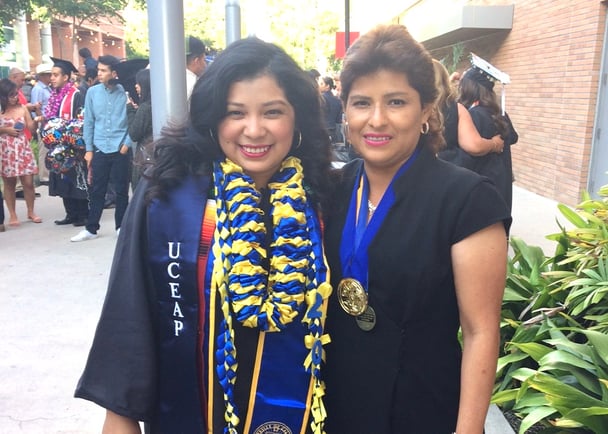 "The moment I stepped foot on campus at UC Riverside, I knew that was the university for me," Wendy says. "The campus, with its bell tower, looked like a scene from a movie. I really wanted to go to a university that had that traditional college atmosphere."
Wendy admits her first year at UC Riverside was challenging because her classes were demanding and she couldn't turn to anyone in her family for advice on how to balance all her coursework. But Wendy says the counselors at UC Riverside were just like the counselors at Aspire Pacific Academy. They motivated her to stay in college, access services and programs, connect with other students of color on campus, and look ahead to a bright future.
"The counselors and teachers at Aspire and UC Riverside are part of the reason why I'm a graduate ... it took the people around me, giving me life lessons. That's the reason why I give back now."
Wendy says she's paying it forward by encouraging other Latino students to overcome adversity and stay in high school or college despite all odds.
During college, she joined PromiseCorps, a division of AmeriCorps, and served two years as a College Ambassador helping students of color understand the college application process, write college essays, submit all the needed materials to secure financial aid and scholarships, and prepare for life after high school.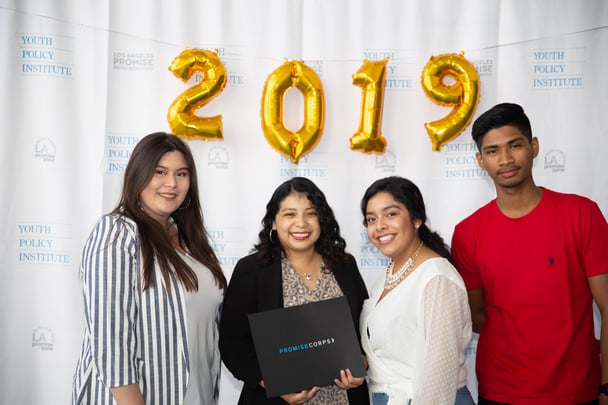 Currently, Wendy is the Alumni Director for UCR's Chicano Latino Alumni Association. Not only does she provide moral support to first generation Latino college students on campus, but she also explains how they can overcome academic and social-emotional hurdles by accessing key services and resources, as well as forming connections with one another.
"I always go back to my roots. It was my high school teachers who believed in me. You only need one person to help you out. That person can make all the difference."
Because of her contributions to her local community, Wendy was recently recognized by her high school alma mater, Aspire Pacific Academy, which named her a 2022 Don Shalvey: Changing the Odds Award winner.
Created in 2009 to honor Aspire's founder, Don Shalvey, the award recognizes alumni who are the first in their families to graduate from college, give back to their communities, and continue to demonstrate tenacity in the pursuit of attending college.
---
This blog story was written by Ana Tintocalis, CCSA's Senior Director of Media Relations and Editorial Content. She is a frequent contributor to the CharterNation Blog. Got a good charter school story? Contact her at atintocalis@ccsa.org.