During the remaining days of Black History Month, we'll bring you the thoughts and perspectives of influential Black charter public school educators in a two-part Q&A series called Black Charter School Heroes. CCSA believes the histories, stories, and voices of Black educators should be centered, honored, and uplifted every day – especially during this nationwide observance.
This week, we feature two inspiring African American charter public school leaders: Maya Woods and Jason Sample.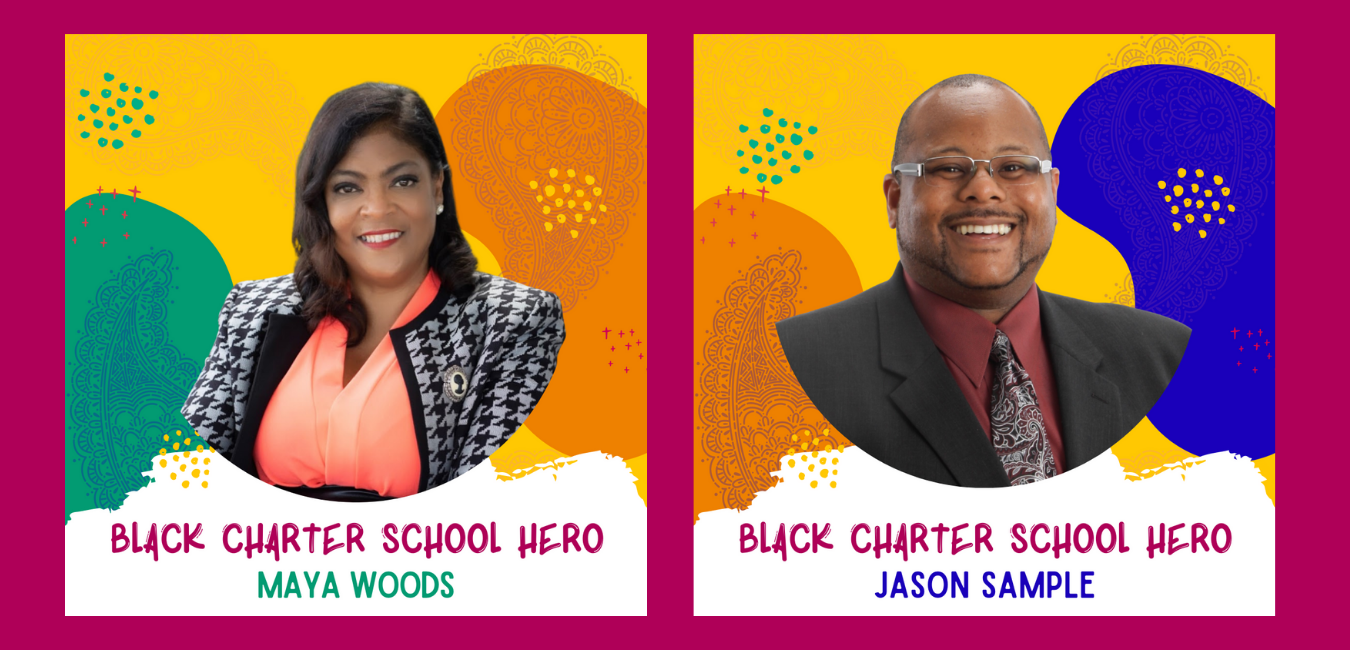 Woods is the Superintendent of AIMS K-12 College Prep Charter in Oakland which is working to break the chains of poverty in that community. Its mission is to "cultivate a community of diverse learners who achieve academic excellence." AIMS' commitment to high expectations, attendance, academic achievement, and character development results in students being prepared for lifelong success.
Sample is Deputy Superintendent of Gateway Community Charters located within Sacramento County. Through his work at GCC, Sample is growing high-quality charter schools that provide access to innovative, standards-based educational opportunities.
Q: How do you celebrate Black History Month? 
Woods: I celebrate Black History Month by reading books that ground me in my culture and the experience of what we as Americans have been through in this country. Currently, I am reading Faces at the Bottom of the Well: The Permanence of Racism by Derrick Bell and Before the Mayflower: A History of the Negro in America, 1619-1964, by Lerone Bennett, Jr. In addition to reading, I support opportunities for others to learn through the work my charter district does, as well as through the various philanthropic organizations in which I participate. 
Sample: I challenge everyone I speak with to recognize that Black History is more significant than one month; it is woven into the fabric of our daily lives, from Mary Van Brittan Brown co-inventing the security system to Garrett Morgan inventing the three-light traffic signal, to Alexander Miles inventing automatic elevator doors. Every day in our schools, we are blessed to teach the next generation of inventors, elected officials, doctors, lawyers, entertainers, athletics, community leaders, activists, and the list goes on. We have so many individuals and things to be proud of as a race.
Q: Who has been an inspiration in your life? Why? 
Woods: My mother and father made sure that I knew the meaning of leadership and service at a very young age. We served the West Oakland community in the organization they founded, Operation Reach, in the post-Civil Rights era of the 1970s. My childhood pastor, Dr. Bebe H. Patten, showed me that women could, if willing, lead a successful organization to benefit the greater good. My daughters challenge me to see various aspects and experiences of the human condition and remind me of the importance of caring for myself and others.
Sample: Justice Thurgood Marshall has been an inspiration in my life. As a public figure, and Supreme Court, Justice Thurgood Marshall experienced the racial discrimination that shaped his passion for civil rights. Justice Marshall's argument in Brown v. Board of Education in 1954 spoke to me personally. My parents always reminded me about that court case which declared that I had equal access to the same educational facilities and programs as any other student. Now every day, through the vehicle of charter schools, I can offer countless families the same opportunity that my parents took advantage of: school choice.
Q: When it comes to advancing educational equity, what needs to happen in California's public schools? 
Woods: When it comes to advancing educational equity, California public schools need to ensure that all students have the opportunity to complete a four-year degree regardless of their background, race, or social experience. We can make this a reality by unapologetically setting high academic expectations for all students; providing wraparound support when students and families face challenges; removing gatekeepers to honors and AP classes; and improving the structural buildings that serve students and no longer considering D level academic performance a passing grade.
Sample: We mustn't see equity as a black and brown issue, but instead, we see it as an issue that transcends every racial, economic, and geographic boundary. As educators, we have a responsibility, regardless of public school or public charter school to see the resounding needs of our students.
The pandemic has brought to light the disparities that we knew already existed in our minority communities throughout the state. At the start of the pandemic, many African-American and minority families were not prepared to transition to distance learning, not because the school wasn't ready or the family wasn't able to support, but because many of our students live in communities that did not have the infrastructure necessary for all children to be successful in a digital world.
The California public school system has a responsibility to partner with all aspects of government to look at the built environment of our communities and the communities that our minority families come from. We often find that these communities lack healthy eating options, financial institutions, infrastructure, health services options, quality school facilities, and school choice.
Q: What do you do in your personal or professional life to effect change?
Woods: I effect change by mentoring young people and other adults in my personal and professional life. I am also in various organizations whose common goal is to make this world a better place for others.
Sample: My father was a pastor in the community I grew up in, and he and my mother raised me to always look for ways to serve. I work to effect change by looking for ways to serve my community and the educational community. I served as one of the youngest elected school board members in California. I served as a City of Sacramento Planning Commission member to look at zoning and planning for our communities to thrive. I currently serve as a commissioner on the Accrediting Commission for Schools- Western Association of Schools and Colleges (WASC), joining others to bring a voice of equity that supports all students. I previously served on the Sacramento County First Five Commission as the Vice-Chair. I worked to look at the disproportionate number of African American infant deaths in Sacramento County. Our First Five Commission made a significant investment in a program that has changed the curve of deaths amongst black children. I serve as the Deputy Superintendent for Gateway Community Charters in my professional life. Every day, I have the opportunity to impact the lives of some of our region's most vulnerable, underserved, disenfranchised students.
If you'd like to learn more about AIMS K-12, click on the video:
If you'd like to learn more about Gateway Community Charters, check out this:
---
This blog story was written by Ana Tintocalis, CCSA's Senior Director of Media Relations and Editorial Content Strategy. She is a frequent contributor to the CharterNation Blog. Got a good charter school story? Contact her at atintocalis@ccsa.org.