In honor of Black History Month, CCSA is celebrating charter public schools in California that are actively working to boost the performance of Black students, ensuring they make grade-level proficiency and leave school prepared for college and their careers.
To kick things off, CCSA released a special report today—Serving Black Students With Excellence: California Charter Schools Working to Close Opportunity Gaps—that reveals shining examples of charter schools advancing academic achievement for the 50 percent or more Black students they each serve.
The report offers illuminating statewide data in terms of Black charter school student enrollment and performance:
Nearly 50,000 Black students in California now attend a charter public school -- a number that has steadily risen over the past ten years, perhaps in response to the academic benefit visible to parents of Black students.


In the state's seven major school districts, Black charter school students are academically outperforming their peers in traditional public schools based on the state's Distance From Standard metric in 2018-19. This is true for both English Language Arts (ELA) and Math.


State data also shows Black charter students are completing a-g coursework at a higher rate than their traditional school peers (15% for Black charter students versus 43% for Black students).
The report further brings to light this data by highlighting eight exceptional charter schools that are advancing academic achievement, offering more in-depth analysis on four:
These profiled charter public schools serve Black students who are performing in the 75th percentile or higher for Black students statewide on the California Assessment for Student Performance and Progress (CAASPP). In addition, each are outperforming other schools (charter and traditional public schools) in their respective districts in terms of Black student performance.
We hope you'll join us in commending the achievements of these schools as we celebrate throughout Black History Month with a series of stories and videos that capture the perspectives of Black charter students. We'll also be highlighting viewpoints from
Black charter leaders on issues like culturally relevant instruction, the need for more educators of color, and creating a rigorous yet loving school environment where students get the support they need.

Here's a look at CCSA's #CharterSchoolExcellence series line-up for February: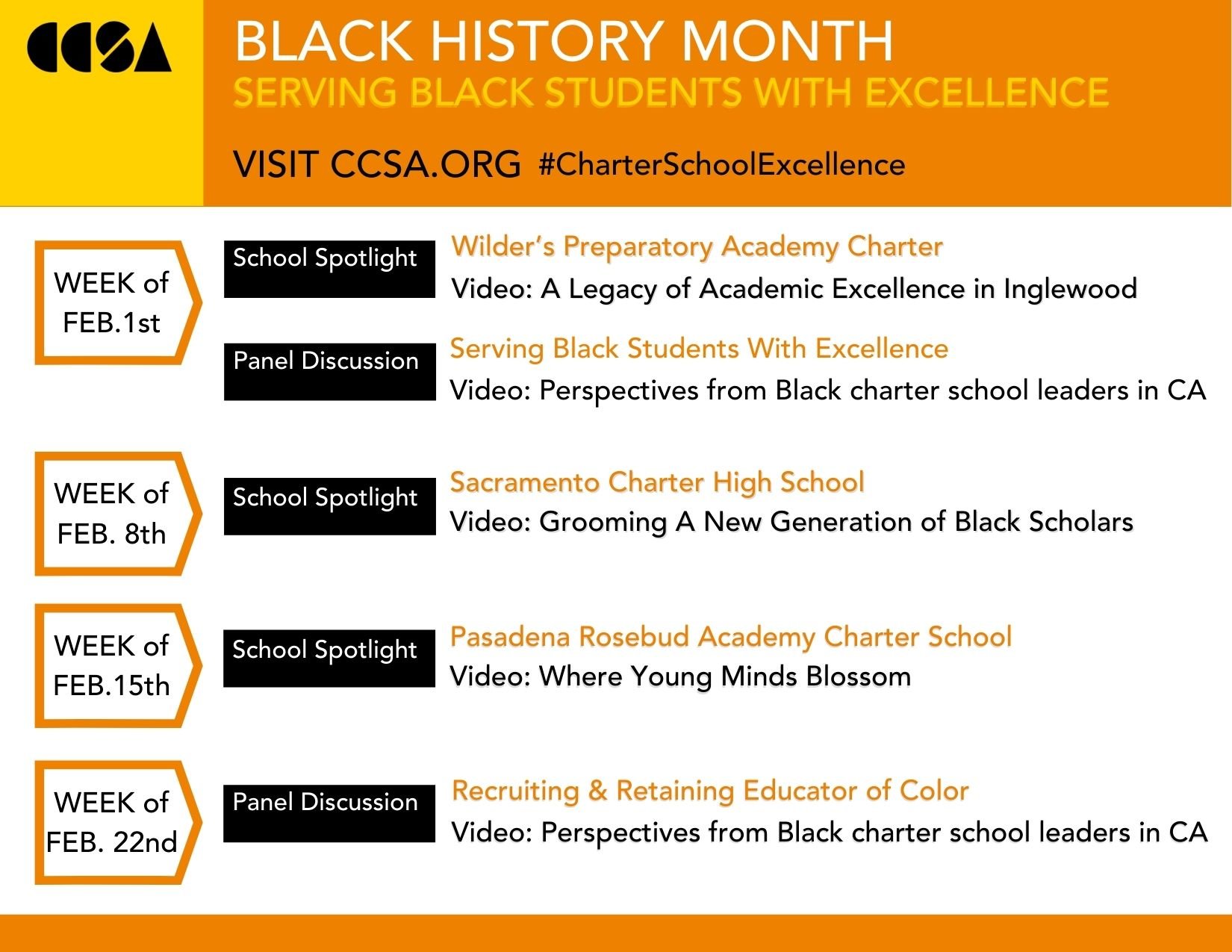 In a year where teachers, students and families have faced unprecedented challenges and uncertainty, it is even more important that California's public schools continue to fight for equity for all students, pushing to close opportunity gaps and expand access to educational opportunities.
We look forward to celebrating Black History Month with you and we hope you'll join us in our commitment to advancing educational opportunity for all students.