In celebration of National Teacher Appreciation Week (May 7-13), CCSA has released a new study called The Face of California's Charter Public School Teachers (Part I) which finds charter public school teachers are racially and ethnically diverse with Native American/Indigenous, Asian, and Filipino charter school teachers most likely to be tenured (27%).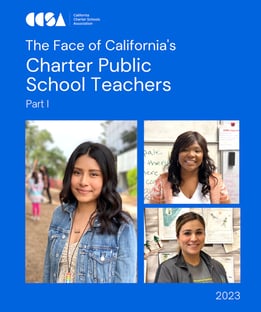 The Face of California's Charter Public School Teachers (Part I) is the first comprehensive analysis of California's charter public school teaching sector in recent history.
Similar to national trends, the report also finds that most charter school teachers in California are female (74%) and tend to be younger and newer to the teaching profession – the average charter school teacher is 40 years old with eight years of experience.
Moreover, 21% of charter school teachers are Latino, 6% are Asian, and 5% are Black. Asian and Black charter school teachers are more likely to have advanced degrees than their peers.
"California's charter public schools were established to give teachers the agency and professional space to create new schools focused around a clear vision and mission to serve students in their communities with their unique needs in mind and multiple and creative paths to success," said Myrna Castrejón, CCSA President and CEO. "During National Teachers Appreciation week, we lift up the findings of this report to illustrate how charter public school teachers are reimagining public education with creative instructional practices, culturally relevant approaches to education, and active community engagement."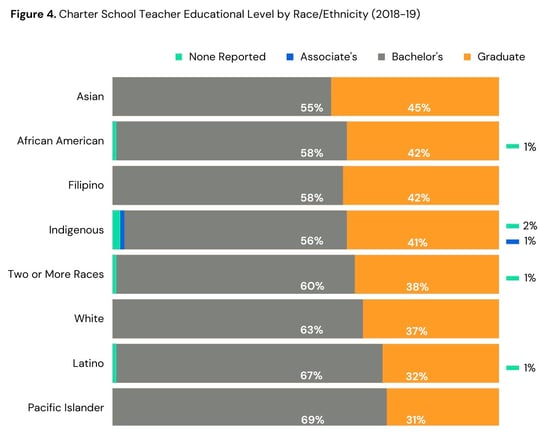 In 2019, there were 30,114 public school teachers (10%) in California that work at charter public schools. To date, there are 1,285 charter public schools in the state serving 685,549 students – 12% of the state's public school population.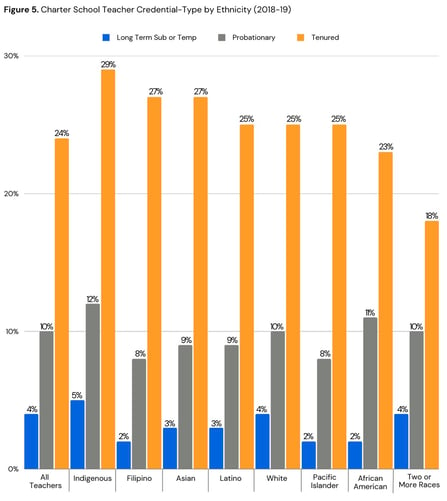 Part I of The Face of Charter Public School Teachers focuses on data – charter school teacher demographics, student-to-teacher demographics, teacher education levels by ethnic groups, and teacher credential levels by ethnic groups. To access the report, click this link.
Part II of the report will be released on Tuesday, May 16 and will focus on the front-line stories of charter public school teachers and key findings from interviews with educators from varied backgrounds for a more qualitative analysis of the power of teacher leadership in public charters in California.
---
This blog story was written by Ana Tintocalis, CCSA's Senior Director of Media Relations and Editorial Content. She is a frequent contributor to the CharterNation Blog. Got a good charter school story? Contact her at atintocalis@ccsa.org.