By Ana Tintocalis, CharterNation Blog Contributor.
Casey Taylor clearly remembers the terrible feeling of dread after the Camp Fire ripped through Paradise, California in 2018 and destroyed Achieve Charter School, the campus she helped nurture and grow as executive director in the rural mountain community.
"When I look back and see pictures of myself during the first few weeks of the fire, I don't even remember where I was or what was happening," Taylor recalled. "[The community] was traumatized. We were in shock. We were having a hard time thinking."
Taylor credits CCSA for bringing "thinking people" to help her school community rise up from the ashes.
Three years later, Taylor believes it's her duty to help educators who find themselves in the same difficult situation – educators like Eric Gross, the superintendent and principal of Pacific Elementary School District located in Davenport, California.
Davenport is a small coastal community in Santa Cruz County that was ravaged by the CZU Lightning Complex in mid-August. Gross says two of Pacific Elementary school board members lost their homes, as did some students and at least one teachers' aide.
TUNE IN: CCSA President and CEO Myrna Castrejón speaks with Achieve Charter School Executive Director Casey Taylor about how Taylor is helping California school leaders in the wake of devastating wildfires.
When Taylor heard about the tragedy, she immediately traveled to Davenport to meet with Gross and help his school community even though the situation could trigger post-traumatic flashbacks.
"You're looking through [their eyes] and they're crying. It just took me back to that situation. The horrible sense of feeling overwhelmed," Taylor said. "It's hard when the rest of the world keeps on going and moves forward, but your world is completely destroyed. You can't really understand it unless you lived it."
Taylor is part of a growing movement of public school educators who are rolling up their sleeves to help with various levels of support outside of the classroom – from providing crisis counseling to offering gift cards.
Myrna Castrejón, president and CEO of CCSA, says the generosity of California's entire public school family – both public charter schools and traditional schools – shines brightest during times of need.
"Casey and others are diving into an experience of compassion," Castrejón said. "They are extending their expertise even though it could open or reopen some of these wounds. It is a true testament to their resilience and character."
For her part, Taylor says she's just trying to pay it forward.
In the wake of the 2018 Camp Fire, she says CCSA quickly came to her aid and secured emergency funding to help Achieve Charter School recover.
CCSA also deployed its communications team which handled the daily onslaught of reporter phone calls and planning of news conferences.
Meanwhile, Margaret Fortune – former chair of the CCSA Board of Directors and current president and CEO of Fortune School of Education – brought her team to help Taylor engage with the Federal Emergency Management Agency (FEMA), file insurance claims, and recruit construction companies to help rebuild.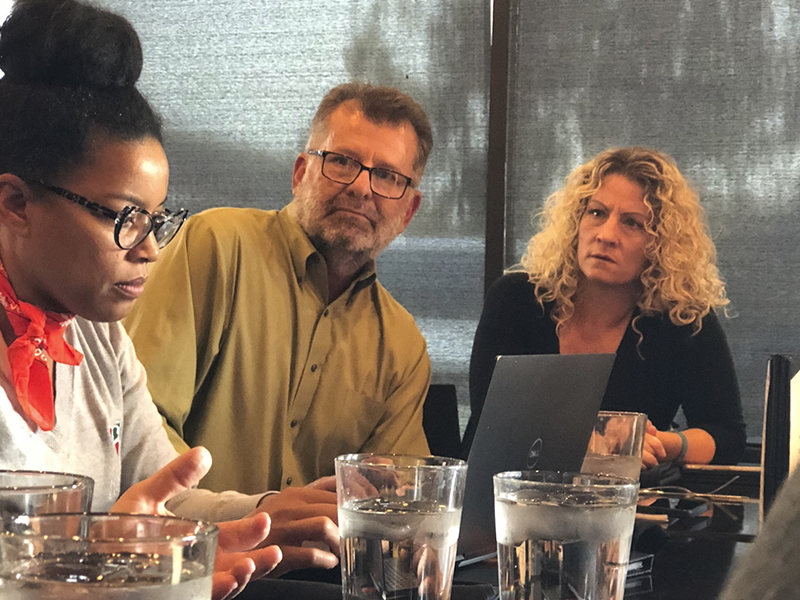 "We are a tremendously united and special community of charter folks who have entrepreneurship and 'mission-first' orientations at the core of our DNA," Castrejón said. "These are the times to make good use of [our talents]."
"I just have to thank CCSA and charter schools all over the place because they just rallied for us when we needed it. I feel like that really helped us come up stronger than we were before," Taylor said.
Traditional public school educators also embraced Taylor's charter school community and gave the support that they knew was needed from their own experience.
Taylor says teachers and staff at one public school in Santa Rosa who lived through the 2017 Tubbs Fire visited Paradise after the Camp Fire and presented Achieve educators and families with warm pajamas.
Most importantly, she says, they helped her school community understand and internalize the Four Phases of Disaster, a series of distinct emotional stages experienced by survivors as identified by phycologists.
Achieve Charter School was able to rebuild and is now located in nearby Chico, California.
While the school community continues to form new memories in a new place, Taylor says the holidays are always a difficult time. She says it will be even more difficult for survivors of California's most recent wildfires.
Holiday decorations and mementos are often left behind when a blaze tears its way through homes and neighborhoods.
Taylor says if the public wants to help survivors this holiday season, she suggests offering them items of sentimental value instead of necessities.
"Gift baskets of what I call 'pretty things.'" Taylor suggested. "Magnets, coffee cups, candles … things that can help to rebuild memories and bring meaning for them in their new homes."
If you would like to help victims of California's wildfires, here are some ways to offer support:
Images courtesy of Achieve Charter School's Facebook page.