When 21-year-old Yadira Chavez first learned about John Muir Charter School, she was earning minimum-wage packing and labeling produce as a warehouse worker.
Chavez grew up in South Central and dropped out of school a few years before because of "bad influence from the people I was around," she says.
Her mother's friend recommended she look into the California Conservation Corps, a state-sponsored program that offers paid-work training and a chance to earn a high school diploma by concurrently enrolling at John Muir Charter School.
John Muir was formed in 2012 to support programs that strengthen the state's workforce through community service, career, and leadership training. The school operates in over 30 locations throughout the state and serves the CCC as well as other social workforce development and career service programs.
At a time when the economy has taken a downturn globally due to COVID-19, conservation and construction jobs are open and available, making this type of public school critical to ensure young people are ready to enter the workforce now and continue thriving once the pandemic subsides and the marketplace rebounds.
Watch John Muir Charter School Teacher Anna Pizelo talk about her role supporting the California Conservation Corps program.
For Chavez, joining the program meant she could explore a different path compared to what life offered in the inner city – she could live in a residential center while she completed her CCC service, and continue earning money to help her mom and three younger sisters.
After moving to the CCC's Tahoe Residential Center and starting classes at John Muir, she was impressed with the school's flexible, personalized learning experience.
She says teachers like Anna Pizelo give students the individualized support they need.
"I've never seen a teacher who actually takes the time to really get involved with her students and helps them as much as she does," says Chavez.
Pizelo guided Chavez through the curriculum and helped her recognize her potential.
"She was a natural born leader," says Pizelo, recalling her first impression of Chavez, "I wanted to foster that."
In addition to tackling CCC's rigorous service work – such as removing invasive plants, fighting wildfires, and restoring hiking trails – Chavez is now a few months away from getting her high school diploma.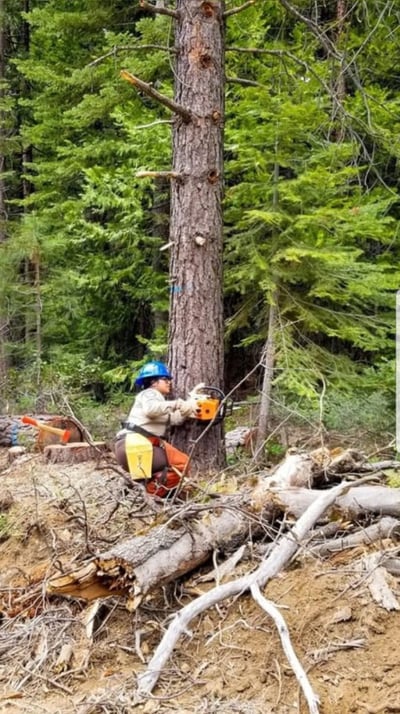 Yadira Chavez learned how to operate a chainsaw during her time at the California Conservation Corps.
"I never knew I would be the type to graduate," Chavez says with a twinkle in her eye. She is pursuing a college degree in fire science and plans to become a firefighter.
A Values-Based Career
Another student who benefitted from a more personalized learning experience at John Muir is 20-year-old Cheyenne Cubillas from Riverside.
She had been looking alternatives to traditional schooling that would meet her needs.
"[There were] lots of anxieties…It just did not blend well with me being around all those students and just the pressure that high school culture has."
For her, focusing on the bigger issues was more important than fitting in with her peer group. She tried independent study to prioritize things that really matter to her.
"I have such a great love for the environment and animals and the people around me that I want to reduce damage to all fronts as much as I can," says Chavez. So, when she learned that she could work in conservation through the CCC, she was immediately drawn.
"That is a passion of mine," she says. "When I saw that there was an opportunity for me to get my diploma, it was that much more appealing."
As a new corpmember, Cubillas was given the option to receive live in the Fortuna Residential Center where she met Peter Loetterle, John Muir's lead teacher who recognized her devotion to eco-justice and love for the natural environment.
Cheyenne Cubillas and Petter Loetterle, John Muir Charter School's Lead Teacher at the CCC Fortuna Residential Center. You can watch a tour of the Fortuna center and the John Muir classroom here.
At John Muir Charter School, Cubillas felt seen and valued as a student. She says John Muir's smaller class size makes all the difference in her learning.
"We all get to speak and much as we want, and [Loetterle] listens to us and answers [our questions] very well. He goes in depth," she says.
Cubillas had struggled thriving in a traditional school, but now, as a charter school student, she is looking toward getting an ecology degree at Humboldt State University and plans to continue her service through the AmeriCorps' Backcountry program.
"For anybody who not only needs your high school diploma but wants a sturdy place where they can accomplish goals, [the CCC] is a wonderful place," says Cubillas.
Learn more about John Muir Charter schools' partnership with the California Conservation Corps here.
This blog story was written by Fabiola Prieto, CCSA's Associate Director of Community Engagement. You can contact her at fprieto@ccsa.org.