We know that the California Teachers Association has no reservations in using dishonest rhetoric and conspiracy theories to advance their extreme legislative agenda against charter public schools that put kids first.
But they've hit a new low by shamelessly embracing online allies who charge that charter public school students, parents, teachers, and leaders at last week's #Stand4All Students Rally were part of an 'astroturf effort.' In other words, it was a phony show of support.
Quick side bar on the tweet below: there is no 'privatization movement.' Charter public schools are public, free, and open to all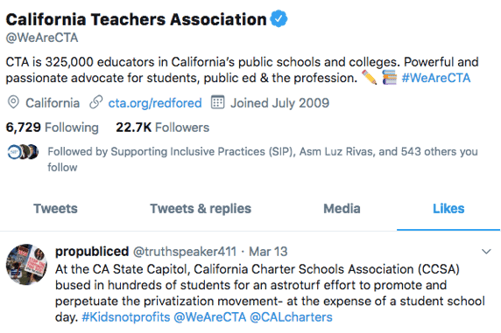 This is an outrageous attack on the thousands of students, parents, teachers and school leaders who traveled to the Capitol to make their voices heard. There was nothing 'astroturf' about a passionate and sincere community speaking out in unity against a collection of poisonous bills that threaten the very existence of their schools.
We hope legislators in Sacramento reject the toxic tactics CTA and their allies are using to promote bills that rip opportunity away from California's most vulnerable students. Our advice going forward: Don't get played by CTA!
Want to take a stand against CTA's extreme legislative package? Go here.