We recently had a chance to chat with Jay Artis-Wright, CCSA's Vice President of Policy and Public Affairs. A mother of three, Jay has over 15 years of fighting for educational equity, including work at the New Jersey Charter School Association and a founding chairperson of College Achieve Central Charter School in Plainfield New Jersey. But her path to becoming an Equity Champion wasn't a conventional one. It took career stops in the entertainment industry and a world trip to bring clarity about her ultimate mission. The conversation has been edited for length and clarity.
How would you describe your own K-12 experience?
My K-12 experience is a little unique. My education started on the East Coast in Columbia Maryland. The school's concept was 'No Walls.' It was a really cool experimental environment. When I got to the second semester of third grade, my family relocated to California. We were in the middle of Los Angeles. We were in an area that we thought was nice, but unfortunately it wasn't—the area was called the jungle. The schools were absolutely horrible. The communities were gang ridden. It really was not a good environment for me, my brother and sister. That was kind of my first experience of really not having a good education and seeing the other side of the coin. My parents were in the military and as their careers progressed, we moved again. My parents were part of a mass exodus for families out of the Los Angeles area and out into San Bernardino and Riverside Valley. We had this nice, big beautiful home, but there were no schools. I was in between communities. That was really kind of the serendipitous moment that got me involved in equity in education. When it came to middle and high school, because of where my house was located, I had to go to a high school in the Pomona zip code. That was the only area that had a high school. It was a complete and utter cultural shock for me. I went from affluent middle, upper middle-class homes to areas where there's a lot of foster and low-income families. High school was really a challenge for me. I really struggled. Ultimately, I really got involved with extracurricular activities, like athletics and student council. That saved me. [That experience] showed me how poor our education structure is, especially at the public school level. Everything that we fight for in the charter school world, is pretty much what I experienced from 9-12 grade.
At one point you worked in the entertainment industry--for Fox Studios and the Screen Actors Guild (SAG). What ultimately led you to make the transition to working in education?
Both of those jobs came on the whim. Before going to Fox, I was a Senate fellow in state government. In college, I was a polisci major and thought I was going to head to law school. My passion was education, but I didn't know what that was going to lead to. During my fellowship, I got a little disillusioned by the process, and seeing how politics work. I was looking to transition and see what I was going to do next. The majority of the work at [Fox and SAG] was policy related. I was still working on child labor issues. They were really fun environments, but the work always came down to child protection, some kind of education component. My supervisor at Fox pointed out that my face lit up every time we talked about education and families. Eventually, I took a sabbatical and travelled around the world and tried to figure out what I wanted to do next. On the last leg of my trip, I did a volunteer program in Costa Rica working with families and children on building an ecosystem at their schools. I just fell in love with the kids and the models of trying to teach English to parents so they could talk with their kids. When I returned to the United States, I volunteered at a KIPP school in Brooklyn and learned about charter schools. I think I found my community there and people who understand the value of education. Who understand the value of looking at the whole child and bringing in the dynamics of families as an important model to that-- and not having to pay for it. That experience embodied all the things that had built me as a person—first generation college student, an African American woman, policy background—how perfect for me where I can share my story and what I've been through with others and help them have even better experiences than I did.
Jay led CCSA's efforts last year to mobilize families in Sacramento to speak out against anti-charter legislation.
How has being a parent influenced your work around equity and education?
I always tell the same story but it really frames what it means for me to be a parent. Both of my daughters are now nine and seven. Because of my experience with education and the fact that a lot of the inequities I faced were because of socioeconomic issues. My mother and father basically were redlined with where they could find their first home. As an African American mother, who very much believes that education is a pathway to freedom, my daughters and my son are told from the beginning, that you're education experience is a right, it is something that makes you powerful, so we are not going to take this lightly. The first story I tell all of my kids as we are walking to school is an introduction to Ruby Bridges, the young woman who started her education based on the Brown v. Board decision to integrate schools. I have this little book and we read it. I tell them who Ruby Bridges was and how courageous she was to go off to school. The reason why I do it is because I need them to know how important their education is. I need them to know, specifically, as African Americans. For African American and Latino families, we have to do stuff like that because they're going into classrooms where people are not expecting them to know how to speak well. But we also make education fun.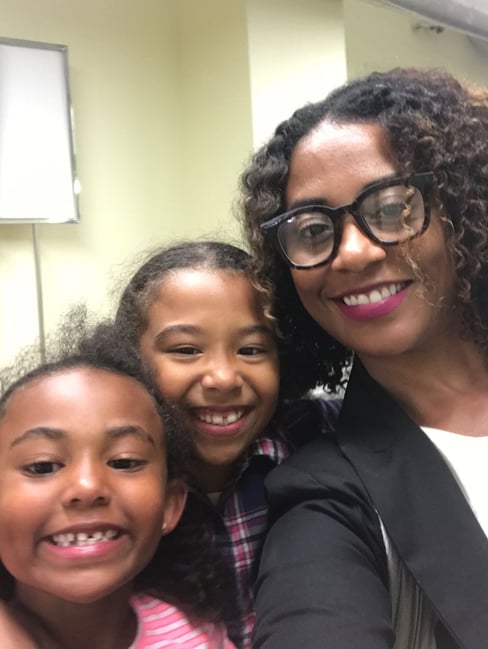 Jay with her daughters.
We know there's around 30 percent of Californians who are not familiar with charter schools. What would you tell them about the role charter schools are playing in our public education system?
I deal with this all the time. In conversations with my friends, everybody automatically sends their kids to private school. No one talks about sending their kid to public school. When we talk about the 30 percent, a lot of them don't understand public education period, whether it be charter or public. They just know that they're not sending their kids there. There has to be a new conversation around public education overall that also includes the fact that charter schools are public schools and that they're free but that they operate in a way that gives a level of autonomy. We need to be able to explain that as a property owner, you don't have to pay a $30,000, $40,000 tuition because you expect your child to have a quality education. There's a charter school that you can apply to. It's an option. That's the key missing link. [Charter schools] are an option.
This pandemic has only highlighted and exacerbated long existing inequities in our education system. What should we be doing now, and in the future, to tackle those disparities in a more aggressive and effective way?
It's bittersweet to think about where we are in this pandemic. On the one end, the pandemic is heightening disparities that we knew about in our schools system. We're going to be dealing with trauma from students who lost the ability on how to be taught to learn in their current environments. While we are learning more about ourselves as a sector, how to be flexible, how to be fluid, how to be responsive, those are all the things that are going to come out of this that I'm hoping will put charter schools in a better light. As a result of this pandemic, there has to be a new set of ideologies and principals when it comes to how we educate our kids. This is an opportunity for us to have a lot of teachable moments and for us to grow. The whole concept of education is changing. Yet you still have status quo folks who continue to think that we can continue to go on this way. But it's impossible.