First, we have to say: CharterNation, you are incredible! Over 7,000 students, parents, teachers and educators traveled from as far north as Chico and far south as Los Angeles to make their voices heard in Sacramento during last Wednesday's #Stand4All Students Rally. It was so inspiring, and we have no doubt that legislators heard you loud and clear.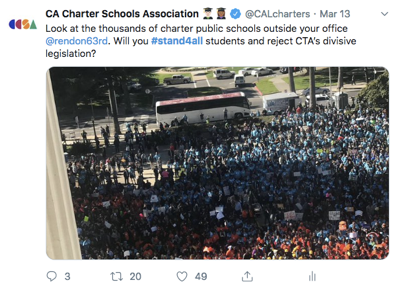 What was also made clear last week is that there are two very different choices to improving public education in California in 2019. The first choice is what you in CharterNation rallied for on the steps of the Capitol: a unifying legislative agenda that puts kids most in need ahead of politics.
"For too long we've seen our most marginalized students overlooked in policy conversations. We want more equity for, and greater investment in, our students most in need," said Myrna Castrejon, President and CEO of CCSA.
Under this agenda, California's public education system would deliver for all students, helping to close the achievement gap among Black students and better support students with disabilities. It would demand full funding and ensure that all public schools have the resources necessary to provide a quality education to students, regardless of zip code. Finally, this agenda would defend great public schools against unjust attacks from hostile politicians in the legislature.
The other choice comes from the California Teachers Association, who has put forward an extreme set of bills that would rip opportunity away from our state's most vulnerable students. To ensure these bills become a reality, CTA and their allies are shamelessly relying on dishonest rhetoric and conspiracy theories. They have shown no hesitation to demonize charter public schools and the families they serve, advancing a poisonous legislative package that guarantees less equity at a time when we need much, much more. You loudly, and rightly, denounced this divisive choice.
We know the road ahead is a tough one, but students and families need our continued help. Last week's rally was a critical and powerful step in standing up for unity and fighting back against division!
Ready to speak out against the California Teachers Association's extreme legislative package and #Stand4All students? Go here.