Former California Governor Jerry Brown who enacted legislation that streamlined the state's school funding system and gave schools greater local control says state legislators have undermined his reforms by implementing far too many regulations that focus on accountability and compliance – not teaching and learning.
The four-term Governor made those remarks as a special guest on Changemakers on CCSA's CharterNation Podcast which features in-depth conversations between President and CEO Myrna Castrejón and influential charter public school leaders and allies.
>> TUNE IN: Click the link below to listen to this special episode (22min):
CharterNation Podcast: Episode 5 Changemakers Special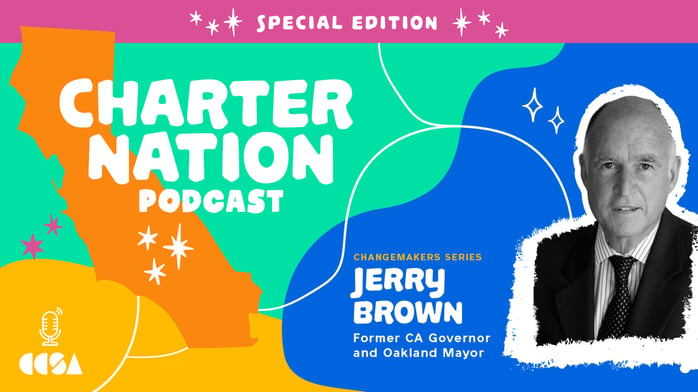 The Local Control Funding Formula, Brown's landmark school finance law, is now nearly a decade old. Enacted in 2013, LCFF replaced what many considered an irrational incoherent system of funding.
However, Brown says policymakers have since gone "overboard" with layering new sets of compliance-driven rules on top of those reforms, distracting schools and educators from the more important task of advancing the academic progress of the state's 5.8 million public school children.
"We spend too much time on not anything to do with teaching. Its accountability, its finance, its compliance. This is really a noxious evolution," Governor Brown said. "I hope that legislators be aware they've gone overboard … we have to look for the wise path."
>> Check out some photos of Myrna's visit with Governor Brown at his family's historic ranch in Colusa County:
Governor Brown's perspective is rooted in his own experience as a current member on the Board of Directors for the Oakland Military Institute, one of two charter public schools that he established as Mayor of Oakland in 2001. The Oakland School for the Artsis the second charter public school he founded in 2002. Both charter schools primarily serve low-income students of color.
During the podcast interview, Governor Brown – a longtime supporter of California's charter school movement – shares his thoughts about the power, flexibility, and ingenuity of charter public schools, calling on lawmakers and labor unions to put politics aside and support a more robust public school system with plenty of options for families.
"In recent years, there's been much less acceptance of the role of charter schools, and there's a certain intolerance, which doesn't make any sense," Brown said. "Like everything else in our politics, [education] is more polarized. I'm not polarized. I want to see a healthy union. But I also want to see a diversity of opportunities. We all talk about diversity, equity, and inclusion. Well, charter schools are the essence of that."
The following are additional excerpts from the interview:
On the importance of local control (subsidiarity):
The reality is in that classroom and, therefore, the more that we devolve authority close to the classroom, the more real and effective it will be. And that's the whole essence of what I see in the charter school movement.
On his support of nonprofit charter public schools:
There are many ways to do things. And I think that's the genius of the charter school is to welcome a whole range of possibilities and let the local school decide. But that becomes intolerable to the leadership, whether the legislature or the governor's office. They all want to micromanage.
On the need for a diversity of education options:
My strong support of charter schools was to have an outlet for the creativity of parents, of teachers, or, in the case of charter schools, even entrepreneurs, who really care about education. Let them do it and do it in different ways. Whereas the public school system, it could be creative, and it's supposed to listen to charter schools as part of the law, but they tend to be more monolithic, more regulatory and less human in the interaction.
The CharterNation Podcast is a 25-30min highly-produced monthly program. It's the only podcast dedicated to news, analysis, and stories from California's charter public school movement. The program is produced and hosted by Ana Tintocalis, a former K-12 education reporter and Senior Director of Media Relations and Editorial Content Strategy for CCSA.
---
This blog story was written by Ana Tintocalis, CCSA's Senior Director of Media Relations and Editorial Content. She is a frequent contributor to the CharterNation Blog. Got a good charter school story? Contact her at atintocalis@ccsa.org.