This is the second interview in a series of interviews with champions in the fight for educational equity in the K-12 system
Harris Luu is the Founding principal at Scholarship Prep South Bay, a charter school in San Pedro.
Luu's commitment to social issues, like diversity and equity, has led him through a rewarding career in education. He has been a teacher, a leader and a district level administrator and he uses his platform to advocate for communities that have been most underrepresented.
He shared his thoughts on the challenges we all face during the COVID-19 Pandemic.
CCSA: Tell us about Scholarship prep and what sets you apart
Harris Luu: I'm are proud to be here in the South Bay serving our community. [Scholarship Prep] has a diverse population of kids from all different kinds of places and that's what I like the most. I treasure that about our community and about our school.
One of the big pillars of our organization —and the reason I joined — is that we firmly believe that there are unique pathways to higher ed. We believe that for all our children and we don't just say that, but we set up these pathways for them. We have many kids that are talented academically, but also very gifted in arts and music, athletically or even linguistically. So, we offer these different pathways where they can excel, and they can use that as a motivation to do better in other courses or it can be the pathway for them to succeed.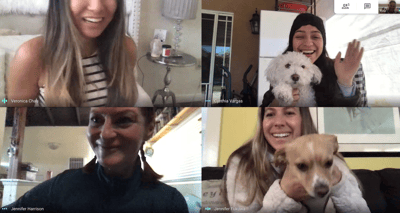 Scholarship Prep, South Bay teachers and staff met virtually and put a plan together for increased engagement for distance learning, which includes live lessons online, small groups online, recorded lessons, and office hours.
CCSA: Let's hear a little bit of background about you. What inspired you to become an educator?
Harris Luu: I got into the field because I saw the inequities in the systems [and] I want to make sure the schools that I work for are just as great as every school that is in the nicer communities. I took it upon myself to be the best teacher that I could be for my kids, and the best administrator that I could be, so that they can get everything that the more privileged kids got.
My issue is equity. My Issue is embracing diversity and making sure that my students feel valued. That they know that what they bring to the table is just as important as anybody else and, in many cases, more important. Things like: coming from another country, speaking a different language, supporting your parents, having a job, taking care for your siblings. All those things make us stronger people and those things I embrace.
CCSA: What are the things that you are doing as a leader to face the COVID-19 situation?
Harris Luu: Our teachers, our staff and our parents are all concerned about the public health issue that faces us. Our primary concern Is making sure our kids are safe; that's the first and foremost goal. We are following all the CDC and county guidelines to make sure that students are sheltering in place and staying safe with their families. Our second priority, very, very, close to that, is making sure kids are learning. So, we designed a multi-phased approach to our teaching and our learning process. And lastly, we're preparing for the best communications possible during these times. So, we stay in contact with our kids and families in a number of different ways through the curriculum. But also, we have a plan to stay in constant contact with our families through digital media, social media and print. We leverage everything possible so that parents can stay up with whatever is going on in the school and how public health concerns are impacting our kids.
Scholarship Prep, South Bay teachers and staff met virtually and put a plan together for increased engagement for distance learning, which includes live lessons online, small groups online, recorded lessons, and office hours.
CCSA: There is a big concern that some families may be left behind due to a lack of access to technology—what is called the "Digital Divide." How is Scholarship Prep managing this issue?
Scholarship Prep is an organization that calls that dilemma out, recognizes it as a fact and marshals resources to make sure that we bridge that gap. Even before this, we launched a campaign to make sure that kids are one to one with technology. In our case here, every child has access to a Chromebook so they can be online; to address the lack of access that's forcing our communities to be separated and that further exacerbates the cycles that we've seen in public education. So, what we've done during this distance learning time is that we're providing that to parents. For families that don't have Internet access we've also secured resources to get them hot spots, so that no child is left without access here at scholarship prep south Bay. We want to make sure that, not just for our curriculum, but for everything else that's going on in the world. We want them to stay connected and their parents to stay connected.
CCSA: What is the message you want to send to the community?
The current public health crisis is having a huge impact on our kids. And, when I say our kids, I mean kids that have been disproportionately forgotten in the past; students of color, students who have been linguistically left out of the mix, students who are struggling with poverty or have exceptionalities that haven't been met before. We want every student to know, but particularly those students, that at Scholarship Prep we're behind them, we're rooting for them, and we want every school to do the same. So, our teachers are hard at work. I'm hard at work. The District Office is hard at work. We have a lot of people working every single day and in fact more to make sure that our kids get the best possible experience and we welcome them back when we get a chance to see them again.
CCSA: Thank you for sharing your perspective, Principal Luu.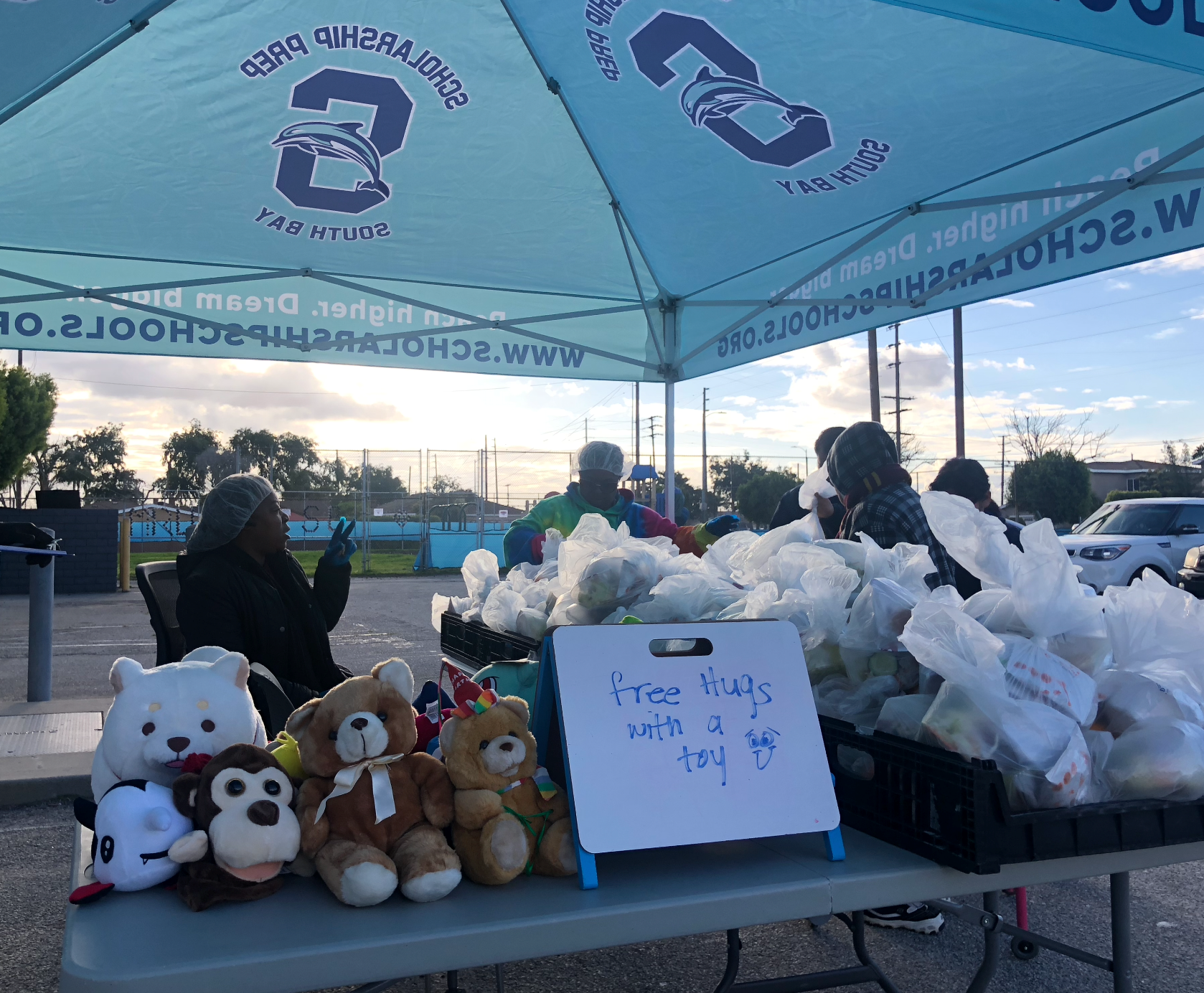 Scholarship Prep is a grab and go meal pick up site for the South Bay community and they have been including a plush toy to each meal they send home to students.