High-quality nonclassroom-based charter public schools are innovating and adopting new instructional practices to effectively serve students, many of whom have not been successful at traditional public schools.
That's one of many findings offered in our new report, Serving Diverse Student Needs in the Golden State: Practices and Programs of Nonclassroom-Based Charter Public Schools, which highlights the variety of instructional delivery models available to families within NCBs.
A nonclassroom-based charter is a school model in which students spend less than 80 percent of their time physically in the classroom. The flexibility of NCBs allow them to offer students a blend of distance learning, independent study, home study, site-based instruction or other services that are offered at resource center facilities, and/or access to career technical education pathways. In total, NCBs serve over 190,000 students across California.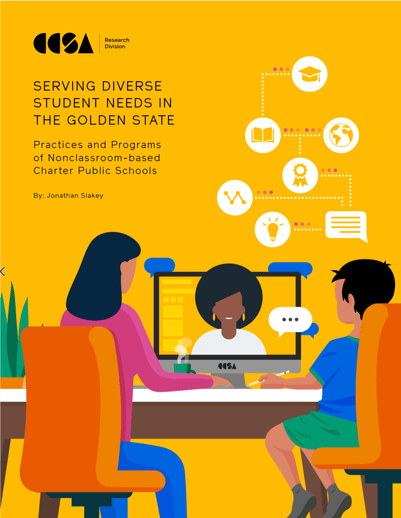 The research in the report shows that a third of all NCBs are classified as alternative schools, serving high proportions of at-promise students (students with multiple expulsions, chronically absent, high school dropouts, adults or teen parents). DASS NCBs tend to work with older student populations and offer career-focused or reengagement/adult programs.
NCBs that specialize only in reengagement/adult-focused program serve higher proportions of Latinx, Black students, and more low-income students than site-based charters and traditional public schools, as well as provide one-on-one support with a credentialed teachers and counselors.
Through deep research and interviews with principals and superintendents at quality NCBs across our state, we discovered:
Great variety across NCBs
There's great variety within NCBs in the amount of seat-based instruction students receive. Some NCB's fall just below the 80 percent threshold, with most student time spent under direct supervision of a teacher at a school site.
Common practices integral to NCB success
While NCBs vary considerably in their models and instructional practices, we found through interviews with principals and superintendents eight common best practices:
Personalized learning

Synchronous and Asynchronous learning

Strong teacher and student relationships

Flexibility of instruction timing and style

Parents and guardians are active participants in students' learning

Emphasis on student responsibility

Adapted to meet diverse student needs

Providing needed educational options
NCB offer program specializations
NCBs typically offer one or more program specializations such as career-focused, personalized learning, and college-ready programs. Other program specializations include reengagement/adult, constructionist, content focused, and 21st Century programs.
NCBs enroll more students than average site-based charters
Most NCBs enroll more students than the average site-based charter school, with NCBs featuring a constructionist program (Waldorf, Montessouri, or project-based learning) having the largest enrollment on average (925).
NCBs with reengagement programs enroll a high proportion of disadvantaged students
NCBs with reengagement or adult programs serve a more disadvantaged student population than either site-based or NCB average, with 72 percent of students qualifying as low-income.
NCBs continue to face increasing pressure from Sacramento, with the latest threat coming in the form of a freeze on funding for new enrollment in the 2020-2021 school year.
Instead of attacking these schools, we should be learning from their innovative examples and ability to meet the unique needs of the students they serve.
We are committed to educate California about the incredible value these student-centered charter public schools bring to our education system and combat misguided efforts to limit their access to those who need them most.
Learn more about how quality NCBs are a critical educational option for vulnerable students by reading the full report!