Seventeen-year-old Angelica Sandez loves everything about NASA – and it shows! She's often wearing NASA T-shirts at school. Her smartphone's home screen displays the NASA logo. Angelica also frequently shares her dream of becoming a NASA engineer.
"I really want to work for NASA," she says. "I want to get an internship at JPL (Jet Propulsion Laboratory), Boeing or Space X. Anywhere I can help build a rocket or something that goes into space."
Angelica is a senior at Career Technical Education Charter High School (CTEC) in Fresno, an innovative charter public school chartered and funded by the Fresno County Office of Education. For the past four years, CTEC has been blazing a trail in the Central Valley by offering a wide variety of manufacturing, construction, and engineering pathways to help students either secure high-paying jobs after high school or get into the college of their choice. Many of those students come from farm working families, with many parents and relatives harvesting Central Valley fields for decades or even generations.
LISTEN NOW: Click the play button and tune into Episode 3 of the CharterNation Podcast to take an audio journey to the CTEC campus in Fresno and hear Angelica Sandez tell her story.
But CTEC students like Angelica no longer feel destined for that line of work. In fact, they're part of a whole new generation of young California Latino scholars who are forging a new path for themselves and their families by staying in school and embracing science, technology, engineering, and math with open arms.
When Angelica first began attending CTEC, she thought construction might be her passion. However, CTEC educators soon introduced her to the world of engineering through hands-on Project Based Learning, or PBL – the hallmark of the school.
"I like engineering because of the science, math and problem solving," says Angelica, whose black hair is coiled up into two little buns on top of her head. "Engineering is like a big puzzle that you're trying to figure out … it's like a competition with yourself and others."
Engineering, however, is not something that runs in Angelica's family. Her mother and father, who are both from Mexico, stopped going to school at a very young age, working a number of humble jobs over the years to support their family of five children—Angelica being the youngest. And though she does recall as a little girl watching her father tinker with tools and machines, she has always been the sole member of her family with a passion for math and science.
Seventeen-year-old Angelica Sandez is part of the first graduating class at CTEC. She plans to pursue her passion for engineering at a four-year university once she graduates.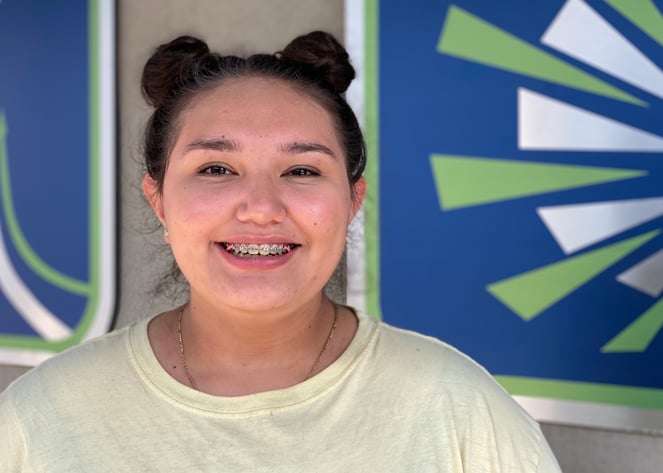 Fortunately, when CTEC opened its doors in Fresno, Angelica was one of the first students to enroll as a freshman at the new charter public school. Four years later, she is now part of the first graduating class at CTEC, joining her classmates in celebrating that milestone this Spring when seniors receive their diplomas.
In many ways, CTEC has taken career-tech education to a whole new level in the Central Valley and in California. Students can earn their high school diploma while getting certified in a career pathway. They also have the option to enroll at Fresno City College and take classes while in high school for college credit – giving them a significant leg-up towards earning a college degree.
CTEC educators are motivated, energetic, and passionate because many of them can relate to their students on a personal level.
"I grew up really poor," says Brian Emerson, CTEC's Advanced Manufacturing Instructor. "My parents were migrant workers. I remember being in the fields as a kid … poverty was endemic to my story. Education and skills brought me out of that. That's why I'm here and part of this program. For those students that need it, it's their way out."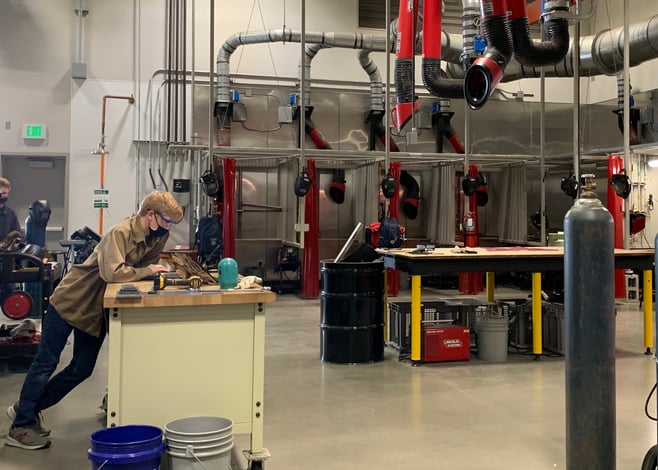 In Angelica's case, her father – Sergio Sandez – has been sidelined by a series of workplace injuries, placing financial difficulty on their family. Even still, her parents want Angelica to stay in school, go to college, and fulfill her dream of working at NASA.

"If she went to another school, I don't think she would be the person she is becoming," Sergio says. "This school has motivated her to do more than she thought she could do."

Sergio admits he barely understands all the many things Angelica is learning at CTEC, especially when it comes to engineering, but he loves this charter public school for all the opportunities it's provided Angelica. Not only is she the president of CTEC's award-winning robotics team, but she also designs and fabricates products like bookmobiles for real clients in the community.

"To see kids growing this way, it makes me wish I had my other kids in the same school and with same programs. Before, we didn't have that."

Angelica has already applied to Cal Poly Pomona, Cal Poly San Luis Obispo, UC Berkeley, and UC San Diego.

"I've already told my parents that if I end up doing something amazing, I'm going to help them out because they've already done so much for me by giving me the best life they could."

If you would like to learn more about Career Technical Education Charter High School, check out its website by clicking here!
---
This blog story was written by Ana Tintocalis, CCSA's Director of Media Relations/Research and host of the CharterNation Podcast. She is a frequent contributor to the CharterNation Blog. Got a good charter public school story? Contact her at atintocalis@ccsa.org.