The tiny house movement is growing in California as more people realize the cost of a tiny house – which is between 100 to 400 square feet – is much lower than an average home in the Golden State and leaves a smaller environmental footprint.

One charter public school working to meet this emerging demand is The Learning Choice Academy in San Diego County which is educating the next generation of tiny house builders and engineers through its Applied Sustainable Construction class.

"I learned so much about the construction industry during the whole year," said Micah Schwab, a Learning Choice Academy graduate who took part in the Tiny House Project. "I learned about woodworking, how to use new power tools, insulation, drywall, wiring, and solar … this experience has helped prepare me for a hopeful career as an electrician while giving me the knowledge to build my own tiny home in the future."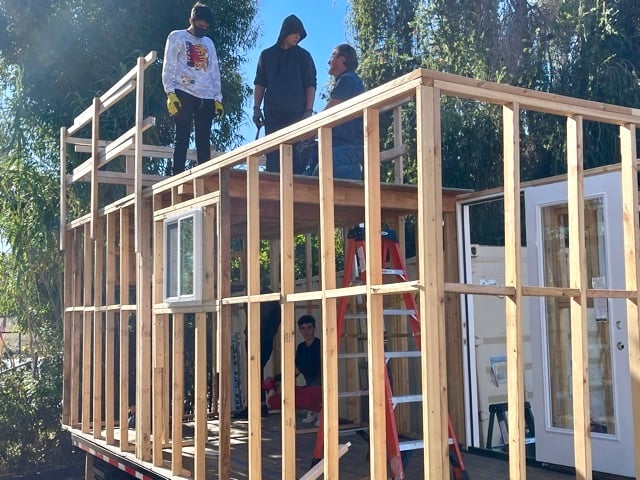 The Learning Choice Academy is a K-12 public hybrid homeschool with three locations in the San Diego region – San Diego, La Mesa and Chula Vista. The Applied Sustainable Construction class is offered at its La Mesa campus as part of a career tech pathway for its high school students.

The campus launched the Tiny House Project with the help of several industry partners including the International Brotherhood of Electrical Workers (IBEW), North America's Build Trades Unions (NABTU), U.S. Green Building Council (USGBC), CED GreenTech, and Rexel Energy Solutions. This year, they received an additional $10,000 grant from the OtterCares Foundation, plus a $10,000 grant from the VELA Education Fund.

As part of the project, high school students work alongside industry professionals to design and build a modular tiny home, gaining relevant job skills in construction, green technology and engineering.

"I'm able to get more involved from learning more about electrical such as building a solar powered USB charger," said Isabel Hinojosa, a junior at The Learning Choice Academy. "I'm definitely prepared to face my future head-on and be open to more challenges."

Following the construction of a tiny house, students go through the process of selling it, which gives them additional skills in sales, business, and marketing. Proceeds from the sale are reinvested in the Tiny House Project so students can participate next year.

In addition to job skills, students get the chance to develop social-emotional skills such as teamwork, cooperation, and communication. Instructors at The Learning Choice Academy say the project nurtures students' entrepreneurial spirit, taking them out of their comfort zones and showing them what they can achieve with some imagination.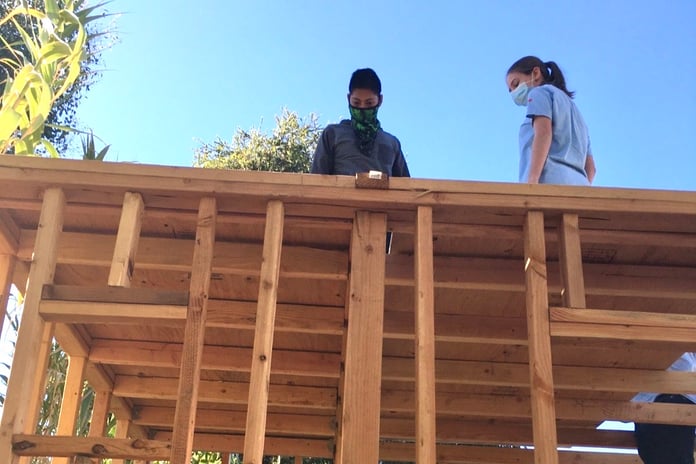 "The project not only teaches students social-emotional skills and relevant job skills, it also empowers them to address real community needs related to affordable housing and sustainability," said Travis Nixon, an instructor at The Learning Academy. "The project has been well received and in future years, we would like to expand to our second school site."

The second school site is located in Chula Vista.

If The Learning Choice Academy receives enough support to expand, roughly 20 students at each site will build two separate tiny homes for prospective buyers. The school celebrated the completion of its first tiny home earlier this school year with a ribbon-cutting ceremony and housewarming event attended by elected officials, community leaders and other high-profile guests.

"We are so lucky to have the experience and leadership of Mr. Nixon as well as excellent partnerships with industry leaders," said Debi Gooding, Executive Director of The Learning Choice Academy. "It is one more way we can help achieve our school's mission of empowering students to reach their full potential."

If you would like to support The Learning Choice Academy's Tiny House Project, click here. For more about this K-12 hybrid homeschool, visit its website here.
Ana Tintocalis, CCSA Senior Director of Media Relations and Editorial Content Strategy, contributed to this report.