Today, we're excited to share with you an audio story of a recent charter school graduate. Curious how your student might qualify for a full-ride scholarship? Listen and learn about Melody and Lorena Fuentes, a family from El Salvador that earned a spot in a prestigious university.
Click play to listen to this story
[Transcript]
18-year-old Melody Fuentes has a lot to look forward to this fall. But for now, she's focusing on staying present for those she loves. Like her sister:
"My sister is one of the greatest people I know. Literally, one of my favorite people."
Or her dad:
"He came into my life when I was pretty young … I don't remember the exact age, but when he came into my mom's life, he treated her like a queen… Even to this day, they treat each other so amazingly."
That's because family has played a big role in her success. So, when she learned that she had a chance to be recognized during graduation…
"I emailed my principal and, basically, told him, I want to give up my chance to be Valedictorian…I realized I don't want to be validated by external rewards anymore; I just want to be an individual, that only looks for internal motivations which are my family, my drive to success, my want to put out into the world."
Melody is a recent graduate at Bright Star Rise Kohyang High School in Los Angeles, and she's heading to Stanford with a full-ride scholarship.
Melody Fuentes
My name is Jonathan Slakey, and I'm a Data Analyst at the California Charter Schools Association.
My team and I reached out to Melody and her mother as part of a story we were running about her high school, Rise Kohyang High School. We found her high school by looking at the numbers. Rise Kohyang is the highest scoring public high school in the Koreatown area on California's standardized tests, and we wanted to meet with students who attended Rise Kohyang to figure out why those scores were so high. We've learned that Rise Kohyang's success is about more than just numbers, and that it's really about the determination and enthusiasm of students like Melody, and parents like Melody's mother.
[Lorena]
"I'm from El Salvador. I remember I was like Melody. I liked to study. I liked to be the first, but I didn't accomplish my dream. I didn't finish University."
Lorena is Melody's mother. She had to put a hold on her studies and immigrate to the US over a decade ago. She settled in central Los Angeles. Years later in 2010, after facing a layoff, she decided to return to school where she earned an associate's degree in Chemistry and a certification in Process Technology.
"She saw me how I struggled and she would tell me: "'Mom, I promise you that you won't have to waste a single penny on me. I'm going to get into this university…and I promise you that I'm only gonna get straight A's. I promise you that you're going to be proud of me. And she made it!'"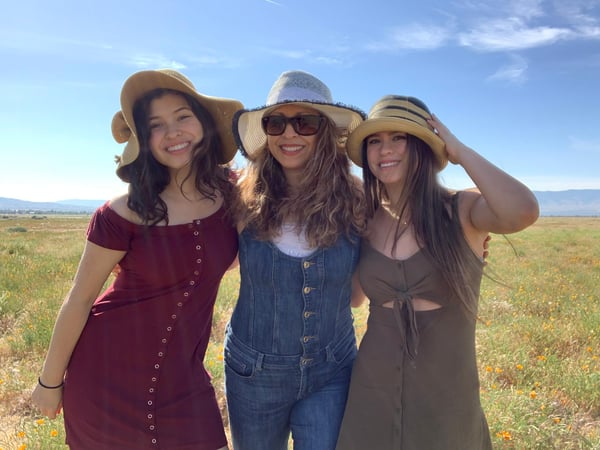 Melody, Lorena, and Jessica Fuentes
But Lorena didn't just rely on setting a good example, she was inquisitive and searched for the best schooling she could provide for her daughters. She paid for tutoring and didn't settle with her neighborhood school.
"Since she started 1st grade, I started applying for a magnet school. I was looking for a magnet school through the district.
By second grade, Melody was accepted at a magnet elementary school on the westside of LA which, in the most recent year of testing, scored in the 52nd percentile on the state's standardized tests. To put this into context, the average elementary school student in LA scored in the 41st percentile. Brentwood Science students scored above the LAUSD average.
"It was an hour commute too, but I was told it was worth it, that they [were] going to build a good foundation for her to start growing... I believe that teachers there encourage the children to dream for the top schools."
Lorena was right about Brentwood Science encouraging children to dream big. It was in this magnet school that Melody first learned about Stanford, during a field trip in 6th grade.
"I was told by one of the individuals there that it was one of the top 3 schools globally... and I'm like: you know what? I'm going there. I'm going to go to Stanford! I took a seed from one of the trees and I put it on a little bedazzled elephant [figurine] and it's been by my night stand for the past 7 years."
After leaving Brentwood Science, Melody's first choice of middle and high school was a magnet program in the mid-city/Fairfax area called the Los Angeles Center for Enriched Studies (LACES). Unfortunately, there were, and continue to be, long waitlists for LA's most popular Magnet schools and Melody was not selected.
With LACES no longer an option, Melody chose to attend Rise Kohyang Middle School in Koreatown. This proved to be the right decision, because by the time Melody was in 8th grade (2016), she and her fellow students scored in the 81st percentile on California's state assessment, much higher than LA middle school students that year, who scored in just the 30th percentile on average.
Although Rise Kohyang had a new High School opening in time for Melody's freshman year, both she and her mother hesitated.
"I knew that charter schools have good programs. But, also, I was told that having a magnet seal after high school she would have more opportunities to get into the top colleges."
So, Lorena continued to apply to magnet schools. She was eventually accepted to University High School in Brentwood for her 9th grade, and convinced her daughter to give it a try, at least for one year.
[Melody]
"The commute there was an hour and 40 minutes, to and from every day and I tried out for the JV Volleyball team and I got in... but I realized that to get home I would have to wait for the bus at six and then get home at around nine, so I would be finishing school work and one or two in the morning. Then I realized I'm not going to be able to take AP Classes, other sports, join clubs, and do other things I want to do, if I want to continue to do sports seriously, if this school is so far away.
"She always had a good, strong communication with me. So, I supported her decision and that's how she went back to the charter school."
"Rise [Kohyang High School] was in a unique situation. How often can you say: 'I'm part of this school that I'm going to be part of a founding class and I'm going to be able to build this school from the ground up.'"
This decision helped Melody hone her leadership skills. As a sophomore at Rise Kohyang High School, Melody says she advocated for the school to open the girls volleyball and softball teams and also started the Jr. State of America, a student-led club that teaches students about civil debate, and strengthens their engagement through volunteering and activism.
"I find passion in so many things, everything is so cool. There [are] aspects of everything that [are] just…'Wow.'"
As we now know, not having a "magnet seal" didn't prevent Melody from getting into her dream school, and the new charter proved to be an excellent choice. When she was in 11th grade, her class scored in the 76th percentile on the state's standardized tests. The LAUSD average for high schools is the 43rd percentile, so students at Rise Kohyang High score well above the District average. This is also far higher than Rise's nearest traditional public high school where students scored in the 38th percentile. And her dream to go to Stanford materialized when she applied to Questbridge.
"Questbridge is a program, it helps individuals get into really amazing colleges – usually top 40 colleges and they offer full ride scholarships if you manage to get into the National Match Search."
This scholar program also has a writing component and helps students that, like Melody, have an intellectual spark, and show determination. So even though Melody did not have the advantages of living in a zip code where applying to Stanford is a given, she had her mother's foresight and trust that giving her a good foundation was going to help her reach her goals.
I asked Lorena how she felt about her daughter moving away for college:
"A mix of emotions... excitement and... I think I've been preparing myself for this time because I know Melody and I know that she's going to do good. I think she's built up her morals and her discipline and she's ready for this and I'm ready for this too."
Written by Jonathan Slakey and Fabiola Prieto.
Research by Jonathan Slakey