Sixteen-year-old Tanner Rico has been confined to a wheelchair due to a rare genetic disease called Duchenne Muscular Dystrophy, which causes the muscles in the body to become weak and damaged over time.
When it was time for him to enroll in middle school, Tanner and his mother, Traci, wanted to find a school where he could just "blend in," yet receive all the accommodations he needed to be a successful student. They began exploring options and learned about
Coastal Academy
(TK-8) in Oceanside while attending a science fair on its campus.
"We knew we would need to find another option for Tanner, and we had friends who had children that attended Coastal Academy," Traci said. "The school has been supportive since we a first got there."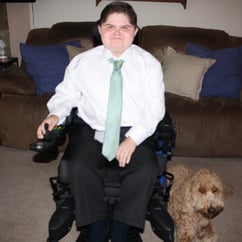 However, last year Tanner and Traci suffered another serious medical setback: Tanner was diagnosed with Ewing Sarcoma, a type of malignant tumor that forms from a certain kind of cell in bone or soft tissue.
Since his diagnosis, Tanner has been in and out of the hospital for chemotherapy treatments. Through it all though, his bubbly personality has not faded. In fact, friends and educators at Coastal Academy High School (9-12) are a source of strength and motivation for him.
When he was first hospitalized, students created inspiring posters while others sent him uplifting video messages—including one that let Tanner know he was this year's honorary homecoming prince. The school community says that although Tanner may not be on campus, he still has a big presence.
"This school has shown so much compassion," Traci said. "Tanner also has been able to take one class at a time … and when it comes to assignments, he's been able to record his answers through video messages because he can't write easily."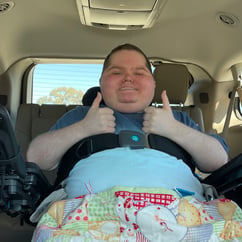 Despite needing ongoing chemotherapy treatment, Tanner is focused on completing his education at Coastal Academy High School. He plans on graduating high school, attending college, and eventually becoming a pastor or motivational speaker.
The educators at Coastal Academy HS say they're committed to ensuring Tanner completes his high school education, receives a diploma, and gets into the college of his choice.
Traci says because not all students have the same needs and abilities, it is important there are schools in every community, like Coastal Academy, that have the flexibility and autonomy to meet the needs of each and every student.
To learn more about Tanner and his inspiring story, check out this short video.