Santa Rosa Academy was founded in 2005 by a group of teachers in southwest Riverside who wanted to build a school community in which "developing the whole child" was at the heart of all the work. They wanted to ensure students received an excellent education and were provided opportunities to develop "good character." Sixteen years later, a new generation of teachers is carrying this philosophy forward, making a remarkable difference in the lives of each and every student. CCSA reached out to four Santa Rosa Academy teachers to learn about their passion, motivation, and commitment to equity. Join us to say "Thank You" to these educators, and all nonprofit charter public school teachers in California, as we wrap up #TeacherAppreciationWeek!
---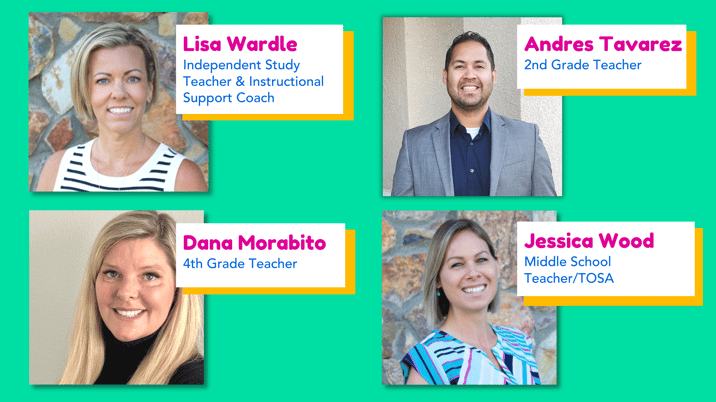 Why do you love teaching at a nonprofit charter public school?

Wardle: I LOVE teaching at a charter school because the students who attend this school have chosen to be here. The families are beyond supportive and want the best for their children, and trust us to provide their kids with the best educational experience. As a teacher at a charter, I also appreciate that we have the freedom to use our professional judgment to ensure our students are receiving the most comprehensive education that they deserve.
Morabito: Although it seems overused, the reason I love teaching at a charter school is that it's not a "one size fits all" environment. Charter schools offer possibilities and hope for students who cannot find their space or place in a traditional school environment. Whether it's smaller class sizes, the opportunity to find innovative, creative, and differentiated ways to express learning, or the flexibility that can be provided within the charter school platform, it's clear that charter schools provide an important alternative and as an educator at a charter school.

Tavarez: There is no better reward than seeing your students grow academically as well as personally. Teaching at a charter school has given me a more innovative and collaborative environment. Through the flexibility we are given, we can really teach and differentiate to each individual student. I love teaching at my charter school because of our character education. Character traits are embedded in the schools everyday interactions between students, teachers, administrators, and parents.

Wood: I left a huge public school district that I worked at for 15 years and went to a charter because charter schools have flexible and innovative programs that allow all students to thrive in their own unique learning environment. I love my charter school colleagues! They work hard for kids, they are dedicated, and they firmly believe that they can make a difference in each child's life. Charters are in the business of nurturing the whole child, which includes social/emotional well being, character, and more. Every child is seen as an individual, and our programs meet them at their level while fostering growth to reach academic and personal goals. I feel honored to guide families in their children's educational journey!

What keeps you coming back day after day?
Wardle: The things that keep me coming back day after day are the kids! I come to work every day and am greeted by kids that show integrity, respect, and excellence in all that they do. I put in the hard work because I believe that students learn by example. If you show that you care about education and build that connection with the students, then they thrive.
Morabito: My motivation is the students. As a teacher, when I walk into my classroom each day and see 26 faces looking at me and counting on me, it's very motivating. I know I play an important role in each of those student's futures and I want to make a difference. If I am not taking every step to learn and grow alongside my students and help open doors of opportunity for learning and some day, the real world, I am not fulfilling my commitment.
Tavarez: I love teaching because I get be a positive influence in the forefront of my very own community. The most important thing that motivates me and keeps me coming back each day is being witness to students growth. At the beginning of the school year my colleagues and I were tasked in creating a digital classroom to best fit the needs of each teachers new group of students. For me, this included Google classroom, Bitmoji hyperdocs, whole group, small group, and one-on-one Zoom meetings. While some of these did not work as planned, it was through those failures that our everyday routine become the solution that fit my students. My colleagues, through collaborative effort, have taken our mission and put it into practice during this very special school year.
Wood: I LOVE, LOVE, LOVE our students, families, and my colleagues! They are what keeps me coming back day after day, even when I'm exhausted and just need a break. My students' smiles energize me. They make me laugh on a daily basis, and seeing the light in their eyes when they realize how amazing they are brings me to tears. I am so proud of how my students grow in confidence and take on challenges that they never thought they could. I am invigorated by our families that are willing to do whatever it takes to help their children succeed in all ways. I am encouraged by emotional strength of my colleagues, who are relentlessly positive, despite challenges. We lift each other up because we value each other and recognize what we all do for our students and families. The support and love I feel when I walk on campus almost feels tangible.

How do you try to foster educational equity in your classroom?
Wardle: Part of why I chose to work at a charter, specifically the school I am at now, is because of their stance on educational equity. A way that I foster equity in my Middle School Language Arts classroom is by giving students options of what novels they want to read. I also allow them a choice on their final projects. Their projects can be a playlist that has songs demonstrating the theme of the novel. Students can even write a sequel of what will happen next. Maybe they chose to write a newspaper article based on an informational text, or create a trailer for a movie based on the book. I think it is important that the students are excited to learn and feel that they have a choice in their education.
Morabito: Educational equity begins the moment students pass through my door for the first time. I work to build a "team" within our classroom where all students are held to high expectations, it is vital that all students help and support one another, and all students need to give their very best in order to build our learning community. This "team" approach also opens the door for an inclusive environment where students feel safe to express themselves. I encourage students to find reasons to celebrate one another, which includes discussions where we learn to embrace and celebrate our differences in thought, beliefs, culture and ideas. This means providing a safe environment built on mutual trust and respect, not just for me as their teacher, but for one another.
Tavarez: Being flexible helps bring equity to my classroom. For example, with assignment due dates, all my students have been given extra time/days to submit the assignment if needed. I also provide a daily open Zoom session for students to pop in and receive any help they may need, whether it's for reading, finishing an assignment, providing additional tutoring, and even a time to just talk. This allows the students to get help when needed, instead of going at it alone. As a parent who has three kids in school, I am fully aware of how flexibility can be a saving grace for students and parents. In my experience, my students have thrived when they are provided equity and flexibility.
Wood: The one quote that means the most to me as a teacher is: "Equal doesn't mean everyone gets the same; it means that everyone gets what he or she needs." Every single student in my class needs something different, whether it's moving around the room frequently, fidgeting with clay, color coding their notes, listening to music during exams, or having small group time with me. (Yes, we do small groups in middle school to differentiate student needs). I want ALL students to leave my class thinking that they can personally change the world for the good using their gifts and talents. Again, I am blessed to be a charter school in which I am able to embed community service and character in our science class. Students discover talents that they didn't know that they had. My students understand that I hold high academic expectations for everyone because I KNOW they can do it. I differentiate my instruction, materials, and assignments to provide the appropriate scaffolds for my students as needed, and also extend the learning of students who are already at mastery. The most important thing that I do for equity in my classroom is to connect with each student, work with families, and treat each child as a unique individual that has a wealth of talents that they bring to our class.
Want to learn more about Santa Rosa Academy? Check out the school's monthly update "Rangers Connect" featuring Executive Director Dr. Robert Hennings:
---
This blog post was written by Ana Tintocalis, CCSA's Director of Media Relations and Research. She is a frequent contributor to the CharterNation Blog. Got a good charter school story? Contact her at atintocalis@ccsa.org.