More than ever before, women flexed and pivoted towards maintaining student motivation during the pandemic, keeping kids connected to their school's community. Their results are a testament to their vision.
To conclude our recognition of Women's History Month, we hope you'll join us in learning about and sharing the stories of these five passionate educators who dared to challenge the status quo in California public education.
---
1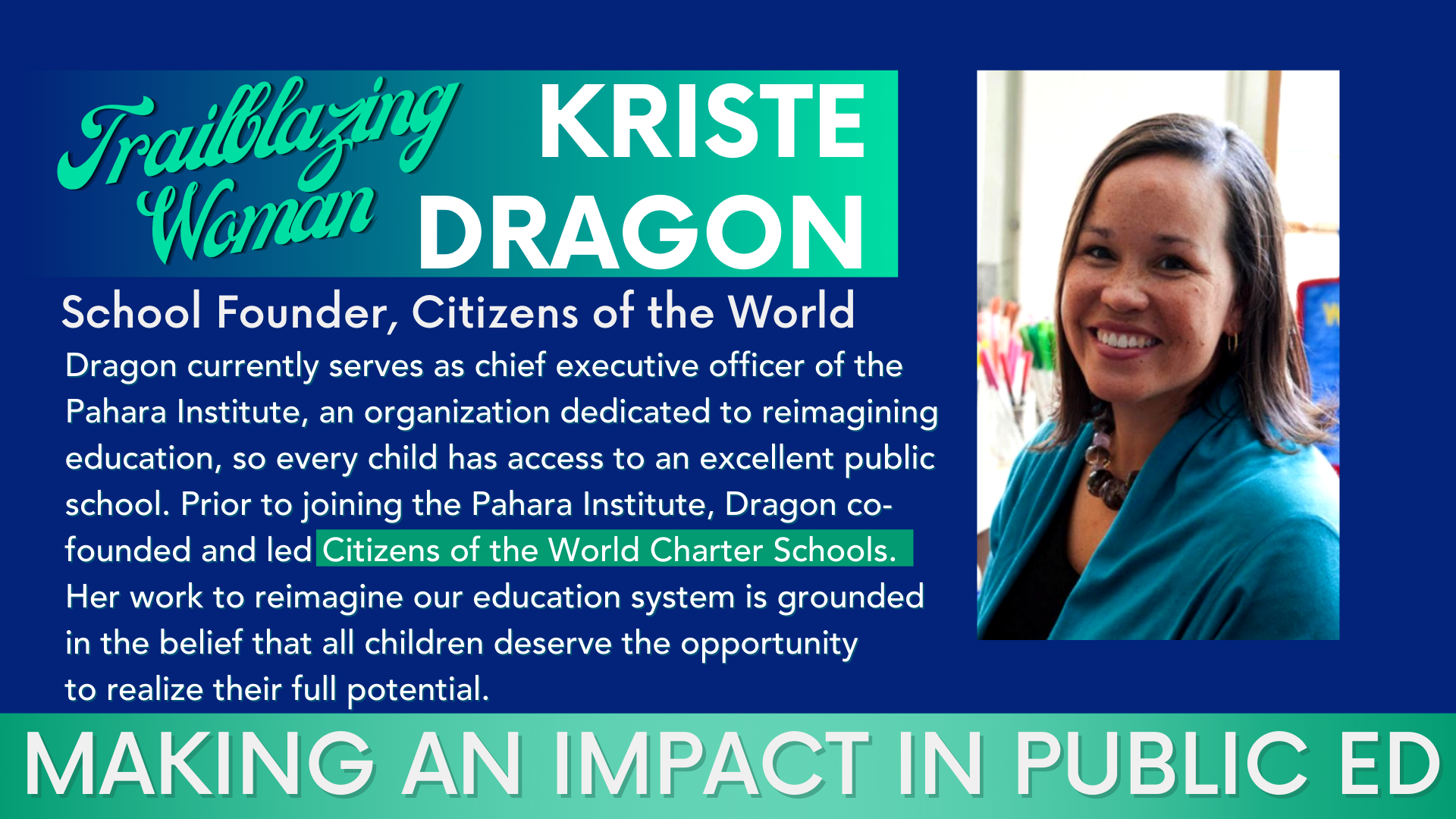 Citizens of The World Charter — a long-standing member of CCSA and a national network of tuition-free schools serving diverse communities — operates three schools in Los Angeles that serve 1,300 students. Their schools reflect the full diversity of the neighborhoods they educate, and they shine like a gem in Los Angeles due to their focus on global understanding.
Watch CWC founder Kriste Dragon talk about her vision in the following video by the Aspen Institute.
---
2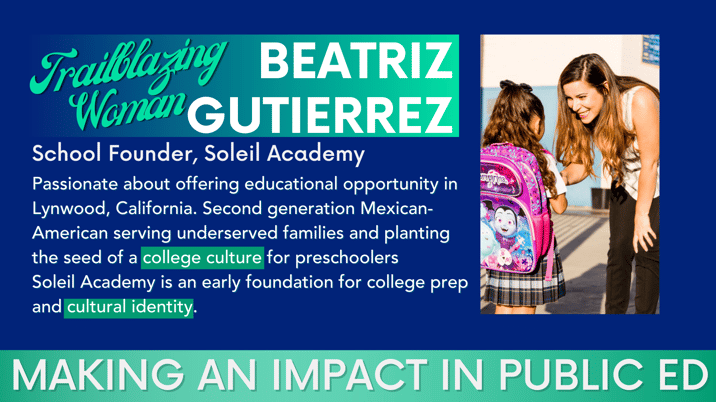 This enterprising woman put her passion into serving the children of her hometown, Lynwood, in South Los Angeles, California. We recognize the work of Beatriz Gutierrez, founder of charter public school Soliel Academy, for her commitment to give back to her community.
Lea acerca de Beatriz y su escuela en español.
Watch Gutierrez and students from Soleil Academy on EstrellaTV's national program.
---
3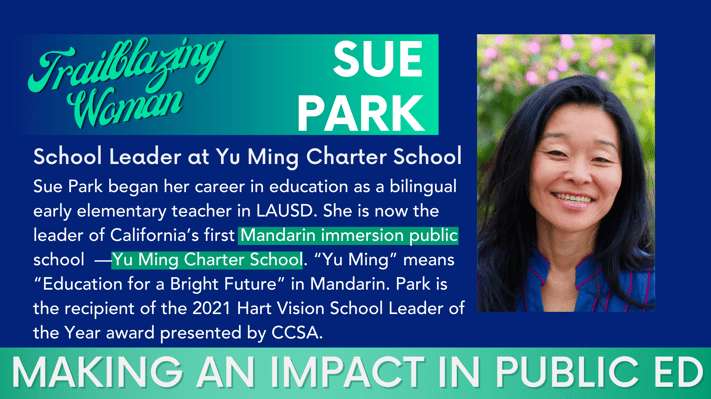 Recipient of the 2021 Hart Vision School Leader of the Year Award - North, Sue Park is a true champion of her students and the AAPI community. Biculturalism is at the heart of Yu Ming, which means "Education for a Bright Future" in Mandarin. This dual-immersion charter public school in Oakland, California has been recognized as a National Blue Ribbon School by the US Department of Education.
Watch CCSA's tribute to Sue Park in this year's Heart Vision Award video.
---
4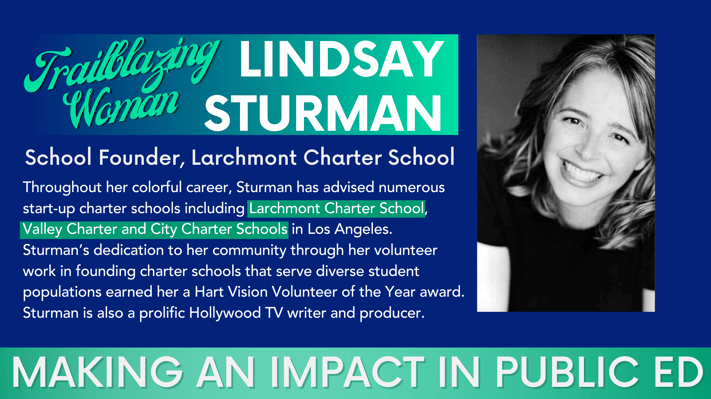 Writing for The CW's Supergirl is not her only superpower! Lindsay Sturman has advised numerous start-up charter schools including Larchmont Charter School, Valley Charter and City Charter Schools in Los Angeles. Sturman's dedication to her community through her volunteer work in founding charter schools that serve diverse student populations earned her a Hart Vision Volunteer of the Year award.
Watch CCSA's tribute to Lindsay Sturman for her 2009 Heart Vision Award video.
---
5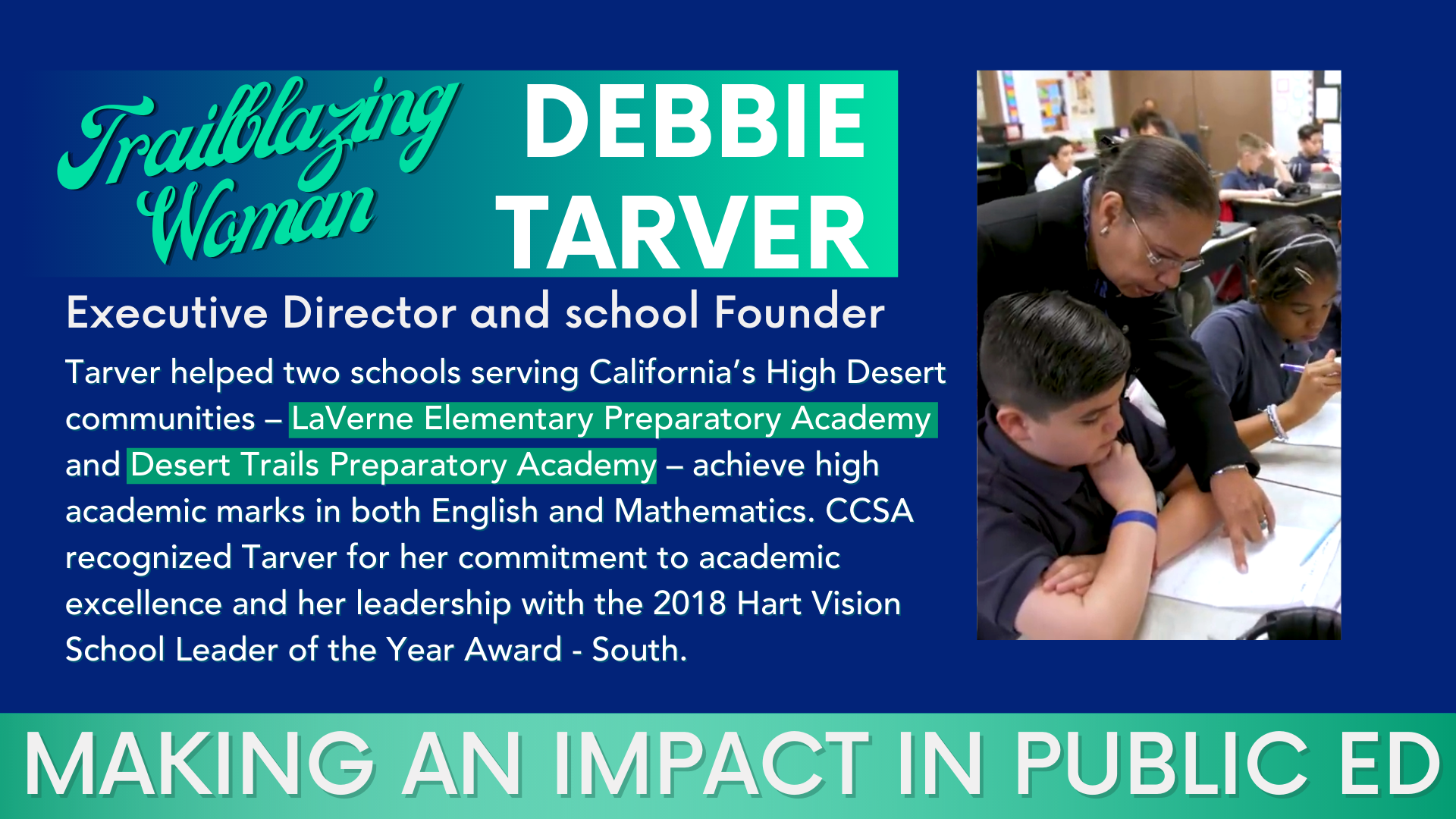 When Adelanto families invoked California's parent trigger law to save a school serving a high-needs students, they knew who to call. Parker has already shown success in leading the transformation of Desert Trails Preparatory, the first converted school in the region, and brought her talents to lead the turnaround of LaVerne Elementary Preparatory. In serving these schools and their communities when they were most in need, Tarver has shown true leadership on behalf of the Charter Nation movement.
Watch CCSA's tribute to Debbie Tarver for the 2018 Heart Vision Award video.
---
This Women's History Month, CCSA is honored to recognize these mavens for their contribution to California's students. Thank you for sharing these images to help us spread the word about these trailblazing women making an impact in education.
This blog story was written by Fabiola Prieto, CCSA's Associate Director of Community Engagement. You can contact her at fprieto@ccsa.org.