In celebrating Black History month, we've also been thinking about the future of education for Black students in California.
In too many parts of this state, Black families still do not have access to a quality public education. In some cities, the track record of traditional public schools has even resulted in calls for a state of emergency. Yet in charter public schools, thousands of Black families have found an educational home that is meeting their needs in an exceptional way.
Turn Up The Volume is an opportunity to spread the news that sheds a positive light on the impact charter public schools have on their community to drown out all the anti-charter rhetoric.
Tweet To Turn It Up:
CLICK TO TWEET:
No doubt about it: Charter public schools are part of the solution to improving education outcomes for Black students in California. https://bit.ly/2GFu4ia
Infographics: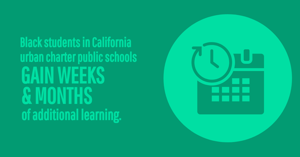 Click here to download the image in full size.
Additional Images can be found here.

Upload image & copy the following text:
The research is clear: Charter public schools in L.A are helping Black and Latino students gain WEEKS and MONTHS of additional learning! #DiscoverCharterSchools #KidsNotPolitics

Add a link to your school website and/or discovercharterschools.org.


Publish across your social channels.



More Charter News Worth Spreading: