The CharterNation Blog continues its series called Paying It Forward which profiles charter public school graduates who are giving back to their charter public school community. This week, we feature Ariana Torres, a graduate from Ednovate's USC Hybrid High College Prep in downtown Los Angeles.
---
Ariana Torres didn't expect her degree in anthropology at the University of Southern California would prepare her for a career in business and marketing.
But a few years after graduating from USC, Ariana -- a South L.A. native -- was tapped to lead marketing efforts at Ednovate, a network of public, tuition-free, high-performing college prep high schools in L.A. and Orange County.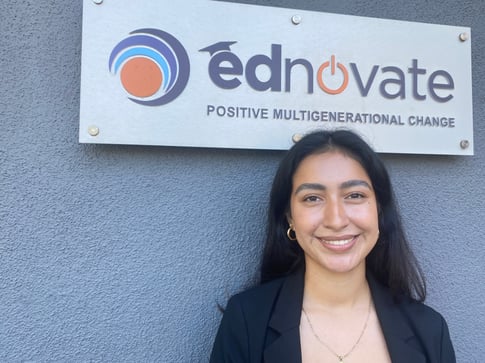 She says her background in anthropology helps her understand the mindset, behaviors, and needs of Latino families so that she can effectively communicate Ednovate's mission of creating "positive multigenerational change."
"Ednovate does so much and has such great schools that sometimes it's hard to capture all of that in a catchy tagline," says Ariana. "So it's important for me to lean on my anthropology background in marketing to understand what the community needs, what they're looking for in public education, and how Ednovate fits their needs."
Ariana knows the power behind Ednovate's educational model because she graduated from USC Hybrid High College Prep, its flagship campus founded through a partnership with the USC Rossier College of Education.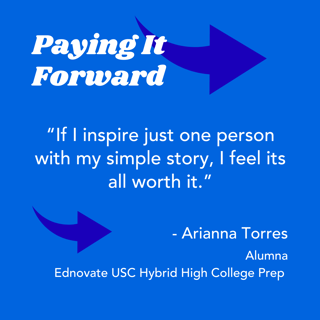 USC Hybrid High is housed in a state-of-the-art campus, located next to USC, and offers a rigorous, "high expectations" academic model with a blended-learning, technology-rich program tailored to each student's learning style and needs.
For example, each student meets with a dedicated Advisory counselor twice a day through all four years of their schooling. Every student is a part of a "four-year advisory cohort" and takes a yearlong college advising course. Parents have 1:1 meetings with student advisors over four years.
"Even though the school is growing, USC Hybrid High has been able to keep that sense of community and commitment to family. I feel like our families and students leave this school very satisfied and enamored with this school community."
Community and parent outreach is a cornerstone at Ednovate. Educators and staff at all six of its campuses spend countless hours ensuring families are just as engaged as their students. They also spend time in local communities raising awareness about this public school option.
That's how Ariana's mom found out about USC Hybrid High.
She attended a parent-student information session hosted by Ednovate and, according to Ariana, her mom was "immediately sold" on the promise of a high-quality education offered by USC Hybrid High.
At the time, the high school was in its second year of operation. Classes were incredibly small and the campus was located inside a large office building with just six classrooms.
"My mom didn't know anything about charter schools so choosing Hybrid High as the place for me to attend high school was risky at first. But she liked Ednovate's small class sizes and believed in its blended learning model. Her decision was definitely worth it."
Ariana was the first in her family to graduate from high school and the first to attend college.
USC Hybrid High has a 100% college-acceptance rate and many of its graduates go on to attend USC, helping to close the college graduation gap in California.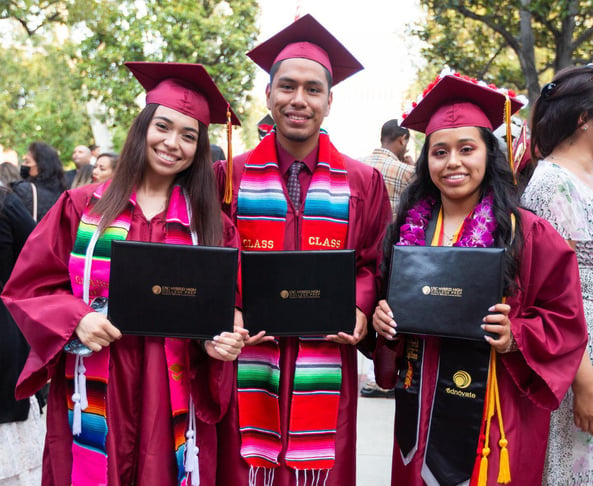 Reflecting on her time at Hybrid High, Ariana says the school's small class sizes helped her gain the confidence to advocate for herself which served her well when she transitioned to USC as a college student.
She also says Hybrid High's personalized, blending learning instruction helped her gain valuable insight into her specific learning style and needs.
"You get to know more about yourself and your preferred ways of learning," Ariana says. "The blending learning style really gave us the autonomy to learn more about ourselves."
She now feels compelled to "pay it forward" by helping to spearhead marketing campaigns and messaging for Ednovate as it's marketing associate.
Her goal is to ensure low-income families of color in South L.A. know about all of their public school options – especially about Ednovate's network of six schools and how to access them.
"If I inspire just one person with my story, I feel it's all worth it."
Interested in learning more about Ednovate? Check out its website.
You can also take a virtual tour of Ednovate's USC Hybrid High College Prep campus by clicking here!
---
This blog story was written by Ana Tintocalis, CCSA's Senior Director of Media Relations and Editorial Content. She is a frequent contributor to the CharterNation Blog. Got a good charter school story? Contact her at atintocalis@ccsa.org.