This month, we need your help to make one thing loud and clear: Don't get played by CTA!
The California Teachers Association (CTA) has put forward an EXTREME set of bills against charter public schools that put kids first. To ensure these bills become a reality, CTA and their allies are shamelessly relying on dishonest rhetoric and conspiracy theories.
Help us fight back against these toxic tactics and an EXTREME legislative agenda that threatens the existence of quality charter public schools that are putting kids ahead of politics and bureaucracy.
Share

any

ALL of these posts that help illustrate the divisive rhetoric and lies put forward by CTA: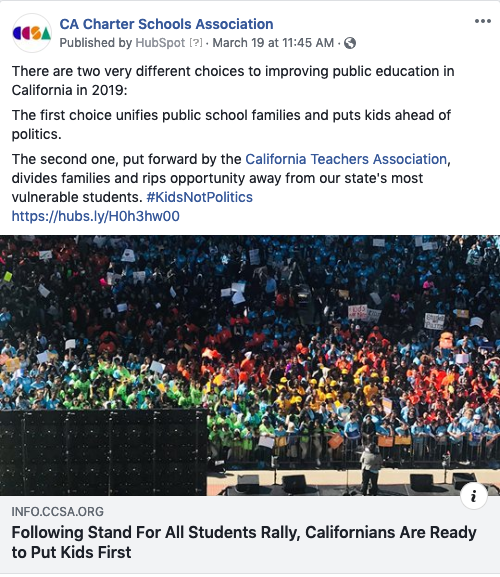 Suggested Social Copy:


There are two very different choices to improving public education in California in 2019. One choice unifies public school families and puts kids ahead of politics. The other does the opposite. #Stand4All #KidsNotPolitics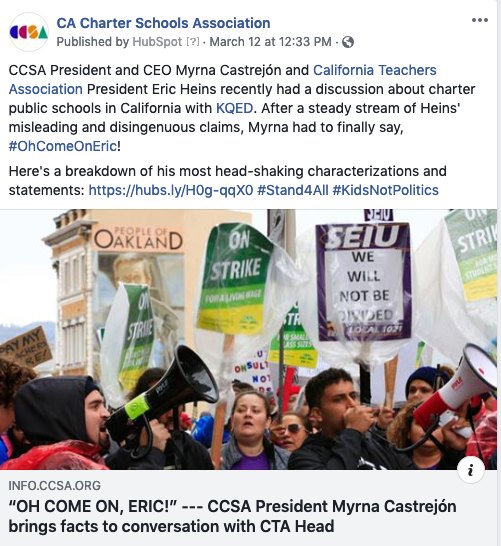 Suggested Social Copy:


CCSA President and CEO Myrna Castrejón and @WeareCTA President Eric Heins recently had a discussion about charter public schools in California with @KQED. After a steady stream of Heins' misleading and disingenuous claims, Myrna had to finally say, #OhComeOnEric!

Here's a breakdown of his most head-shaking characterizations and statements: https://hubs.ly/H0g-qqX0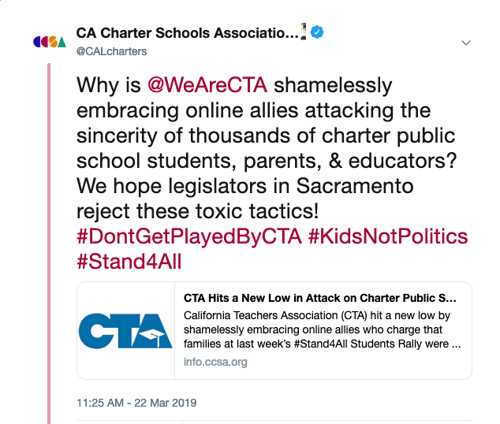 Suggested Social Copy:


Why is @WeAreCTA shamelessly embracing online allies attacking the sincerity of thousands of charter public school students, parents, & educators? We hope legislators in Sacramento reject these toxic tactics! #DontGetPlayedByCTA

Take a stand against CTA's extreme legislative package with just one click to your legislators! Go here.

This one is important! Taken together, these bills would end the charter movement as we know it and result in the closure of hundreds of high-quality charter public schools throughout the state that are putting kids before bureaucracy.

Share the words of our leaders.
Download and share these videos on your favorite social platforms from our President & CEO, Myrna Castrejón and CEO of Fortune Schools and CCSA Board Member, Margaret Fortune.
Myrna Castrejón - CEO & President

Suggested Social Copy:

"Never, ever, ever in the long struggle for equity and opportunity has the aim of justice been served by ripping away opportunity from the most vulnerable."
Margaret Fortune - CCSA Board Member

Suggested Social Copy:

Dismantle and divide. That's how our Board Chair Margaret Fortune rightfully summed up the @WeAreCTA latest collection of anti-charter bills during @CCSACon.

WATCH: