Personalized learning is considered by many education experts as an effective instructional approach to engage and motivate students because academic goals, expectations, learning plans, and family engagement are tailored and individualized to meet students' unique needs.
California is fortunate to have a wide variety of charter schools that specialize in personalized learning which can be delivered through a blended learning style of instruction (which is a combination of distance learning and site-based instruction), home study, and independent study.
CORE Butte Charter School in Chico is an example of a charter public school that's been reimagining education through personalized learning by offering a blended learning style of instruction. Students at the charter school receive in-person instruction three to four days a week with a credentialed teacher, specifically at the high school level, and then complete assignments outside the school facility on the other days.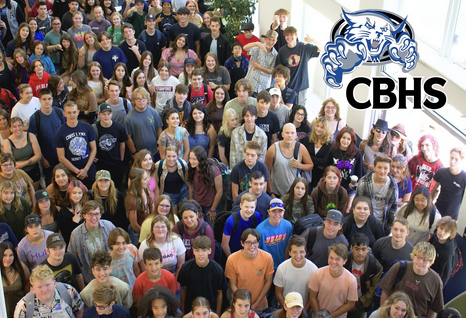 Photo courtesy of CORE Butte Charter School.
Under California's education funding system, charter schools like CORE Butte are technically called nonclassroom-based charter schools (NCBs) because they are not a traditional brick-and-mortar type of school model.
But charter leaders who manage nonclassroom-based charter schools believe the term is actually a misnomer because it doesn't accurately describe the innovative learning that takes place among its students and educators, and it also doesn't account for the vast array of facilities offered to students who attend these schools.
Many in this sector prefer the term "flex-based" as it more accurately describes the flexibility offered to students.
In total, flex-based charter public schools serve more than 190,000 students across California.
In an effort to increase awareness of this model within the charter sector itself, CCSA's Member Council last month spent the day at CORE Butte Charter School to get a real-time look at how educators customize the learning experience for students in transitional kindergarten through high school.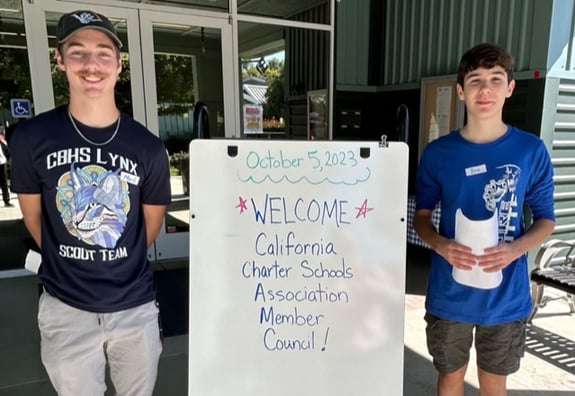 CORE Butte Charter students welcome CCSA's Member Council.
The Member Council is an advisory body comprised of charter school leaders from CCSA member schools across California. Twenty council members participated in the tour along with a dozen CCSA staff including CCSA's President & CEO Myrna Castrejón.
During the tour, CCSA's Member Council learned that CORE Butte's blended learning approach centers on teachers working alongside students to create customized academic plans. Students utilize tools like technology that adjusts to their skill level, and teachers use data to inform how to better support students as they progress academically at their own pace.
"Many students come to our charter school because they are looking for an education that is flexible and personalized to their unique needs, said Mary Cox, Executive Director at CORE Butte. "Our students find that they succeed in a flexible setting and come to our school so they can learn at their own pace. Like their peers throughout the state, students here receive instruction from credentialed teachers that meet or exceed rigorous state standards."
Mary is one of many charter school leaders committed to offering this public school option because it serves the unique needs of California's most vulnerable students who have fallen through the cracks in a traditional, one-size-fits-all school setting.
She's been working hard to ensure CORE Butte continues to offer a modern approach to education, incorporating evidence-based practices that lead to student success.
CORE Butte opened its doors in 1998 in response to local parents and community leaders across rural Northern California who wanted a high-quality, personalized learning option for their children.
Because flex-based charter public schools allow students to take their learning outside the confines of a classroom, there's often a misconception that these schools are all virtual schools and do not have or do not need a facility. But that's just not the case.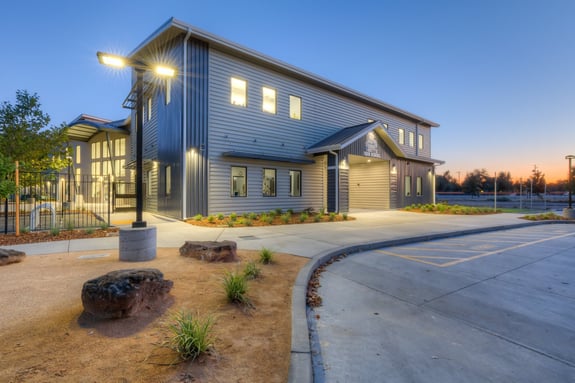 CORE Butte Charter High School is based in Chico and serves families in Northern California.
Photo courtesy of CORE Butte Charter School.
Most flex-based charter public schools in California have campuses which serve as a community hub for students where they can either attend classes, get one-on-one support such as tutoring, and/or access additional services and resources.
During the tour at CORE Butte's high school facility, CCSA's Member Council was able to explore its college-style campus where students make the commitment to meet their class schedule and their academic responsibilities.
Students who led the tour also talked about how the school honors and recognizes the unique gifts, skills, passions, and attributes of each child. They highlighted all the enrichment opportunities and academic tutoring provided by CORE Butte to help them succeed.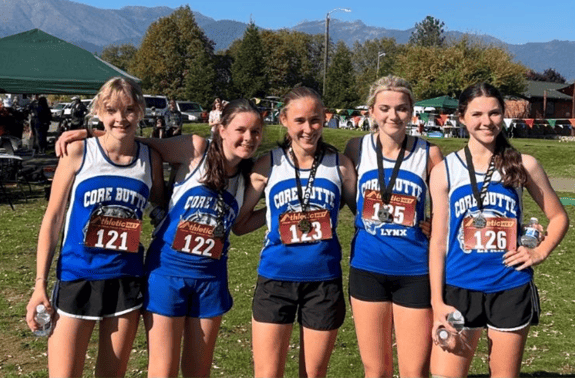 Photo courtesy of CORE Butte Charter School.
LEARN MORE:
>> Click this link to learn more about CORE Butte Charter School!
>> Download this CCSA report for more information about flex-based charter public schools that offer personalized learning: Serving Diverse Student Needs: Practices and Programs of Nonclassroom-Based Charter Public Schools.
>> Or read this blog story about flex-based charter public schools: Nonclassroom-based Charter Schools Fill Void for CA's Most Vulnerable Students.