When a kindergartener is suspended from school, one wonders what kind of offense would merit taking a child's developing mind out of a learning environment, and placing it instead into a space of guilt, disappointment and inadequacy. For Shandrea Daniel, Principal at Magnolia Science Academy #3, it was cutting off her classmate's ponytail after her own strands of hair had been severed during playtime. She was 5 years old.
This early learning experience was one of the stories Daniel shared with colleagues during her time at the 2018-2019 Diversity in Leadership Accelerator program at the California Charter Schools Association. This event would also shape her decision-making as she became a leader and role model to young women in her community. Shandrea wouldn't dream of suspending a student from class at such an early age. This is a trend that, according to our new study, is persistent with other Black school leaders.
In Charting the Course to Equity: K-12 Leaders of Color, we analyze the relationship between having a leader of color and school-level outcomes in California's public schools during the 2017-2018 year. This latest study reaffirms a growing body of research showing that there is a real academic benefit to a racially and ethnically diverse body of teachers.
Here are three key findings from the study:
Finding 1: On average, students at schools with a leader of color scored significantly higher on state tests, especially at high schools.
Overall, the boost in test scores was 10.3 points higher in Math and 5.6 point higher in English Language Arts (ELA) among all students. The difference was even more noticeable for Black students attending a school with a leader of color, scoring 19.1 points higher in Math and 16.8 points higher in ELA.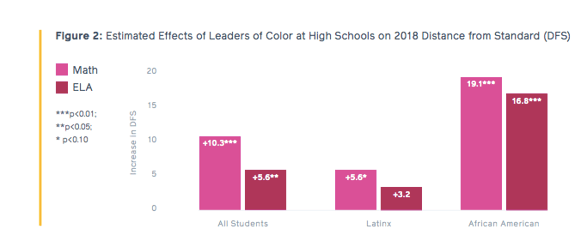 Finding 2: On average, 12th grade students at schools with a leader of color graduate significantly more prepared for college and career.
Leaders of color are associated with a nearly four

-

point increase in the percentage of students that are considered prepared on the state's 2018 College/Career Indicator and a 6.1% increase in the percent of students with "C's" or better in their college prep courses.

Finding 3: On average, students, especially Black students and high school students, with a leader of color were significantly less likely to be suspended.
At high schools with a leader of color, Black students were 4.2% less likely to be suspended. Overall, the suspension rate at schools with leaders of color decreased by 1.6% for all students.

Shandrea Daniel is one leader that can make a difference in her students lives as she considers the many experiences they may be facing and the repercussions her own decisions can pose in their development.
Learn more about the Diversity in Leadership Accelerator program
More research needs to be done to learn how leaders of color increase student achievement. But as this report shows, schools with a leader of color on average have higher test scores, increase college/career readiness, and reduce suspensions. Given these findings, it's up to policymakers, philanthropic organizations, charter and traditional district schools to make increasing the numbers of leaders of color a top priority.