Research shows personalized learning is one of the most effective approaches to engage and motivate students. But personalized learning can mean different things to different people.
Some believe its about creating a personalized learning path for each student by using tools like technology that adjusts to each student's skill level, using data to inform decisions, and creating a game plan for students to learn the rest.
Others say its all about giving students more say in how they learn and what they learn, for example, the projects they do and how they present their work.
And still others take a more broad view, saying personalized learning is about nurturing each child's social, emotional, and academic development.
CCSA's CharterNation Podcast explored the various approaches of personalized learning with Cameron Curry, the Chief Executive Officer of The Classical Academies.
The Classical Academies is an award-winning, tuition-free charter public school network that serves over 5,300 students in grades TK-12 in North San Diego County. Each of its seven campuses offers a flexible, personalized educational environment that blends the best of independent study and the traditional classroom experience.
>>TUNE IN: Click the link below to listen to the episode:
CharterNation Podcast: Episode 6 What is Personalized Learning?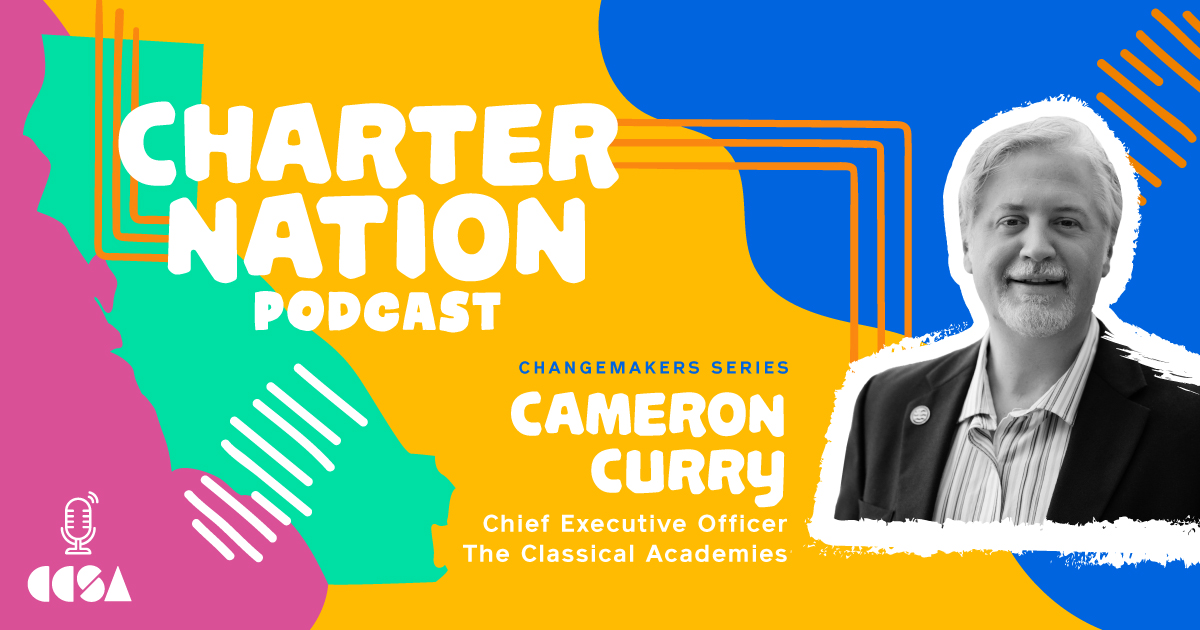 Many charter public schools that specialize in personalized learning are referred to as "nonclassroom-based charter public schools" (NCBs) under California education code. However, personalized learning supporters say the NCB term does not appropriately describe the work and spirit of these schools.
To increase awareness of personalized learning, here's an excerpt from a story called Flexible School Options Are Here to Stay featured on The Classical Academies' blog:
Homeschooling / Independent Study‍
Parents select curriculum and resources and work at their own pace to teach children at home full time. Homeschooling can be done independently or with a public charter school with nonclassroom-based programs. Charter schools can save you time and money and time and often include free curriculum, lesson planning, a tablet or device, state testing, and record-keeping. Credentialed teachers act as a guide on the side and answer questions, provide support, and ensure each student's learning is exceeding grade-level expectations. Special education services, reading and math specialists, and other supports are also available when homeschooling with a public charter school.
Virtual‍
Virtual learning allows students to take more ownership of their learning with remote access to lessons, homework, and collaboration with teachers and peers. Virtual programs can be private or accessed through a charter school program. Charter schools provide the curriculum, a learning management system, virtual access to classrooms, record-keeping, and teacher support. Students may also participate in on-campus extracurricular activities such as cheer, athletics, dance, band, robotics, and more. Many professional athletes, actors, and students who work prefer a virtual program for its flexibility.
Hybrid and Blended Programs‍
In a hybrid program, students attend class on campus in a traditional classroom setting two to three days per week and study at home under the supervision of a parent or guardian the remaining days of the week. California credentialed teachers work closely with students on campus and in the classroom during the on-campus days. Students work at home and follow the classroom curriculum on home days. Many parents find this is the perfect blend of both programs, and it often gives families the flexibility to add additional enriching activities like music lessons and community sports.
Dual Enrollment‍
Dual Credit/Concurrent Enrollment is a program that allows qualifying high school students to take courses at a community college at little or no cost to the student while attending high school. Students can earn both college and high school credits at the same time. Students may qualify for concurrent enrollment after enrolling in at least two classes per term and a minimum number of 30 credits per year. Many students find that they can complete a year or two of college courses before high school graduation.While there is no longer a one-size-fits-all approach to education, increased flexible program options are available for students. They can offer them greater ownership of their learning and future.
In addition to being the Chief Executive Officer of The Classical Academies, Cameron Curry is also the founder of The North County Education Foundation (NCEF) which promotes and supports charter schools in the San Diego region by helping them identify grants and funding from private individuals, businesses, foundations, and philanthropic organizations.
NCEF and CCSA have collaborated to present the regional Charter Stars Awards Ceremony, which honors charter school leaders, volunteers, and teachers for their contributions. Nine individuals were recently recognized with a 2023 Charter Stars Award.
One of the recipients — Tami Foster — works at a personalized learning school called Otay Ranch Academy for the Arts which is operated by Springs Charter Schools. Tami is the Site Facilitator and received the 2023 Charter Star Award for Community Impact. Press play on the button below to watch a video about her contributions to charter public schools students:
>>To see a list of all the 2023 Charter Star award winners, as well as videos highlighting their work, head to this Charter Stars webpage!
To learn more about The Classical Academies and its seven campuses, visit its website here!
---
This CharterNation blog article is a collaboration between CCSA and The Classical Academies through CCSA's Guest Blogger partnership. If you belong to a CCSA member school and would like your school's content featured on the CharterNation Blog, please email atintocalis@ccsa.org.