This week CCSA heads to Southern California to profile another school as part our "Serving Black Students With Excellence" series honoring Black History Month. Today, we're spotlighting Pasadena Rosebud Academy Charter School (K-8) which is working to establish a strong academic foundation for young Black students.
Take a read and be inspired. And while you're at it, check out our other two school profiles: Wilder's Prep Continues Legacy of Black Student Achievement in Inglewood, and Sac Charter High Growing Next Generation of Black Scholars.
---
Starting from humble beginnings, Pasadena Rosebud Academy Charter School opened in 2007, serving at first only a handful of students in Altadena, California — a community directly north of the city of Pasadena. The community's connection to the Tournament of Roses Parade in Pasadena inspired the school's name.

Rosebud Academy has since grown to serve nearly 200 students in elementary and middle school grades since its inception almost 15 years ago, offering a high-quality education to a community made up of mostly low-income families of color.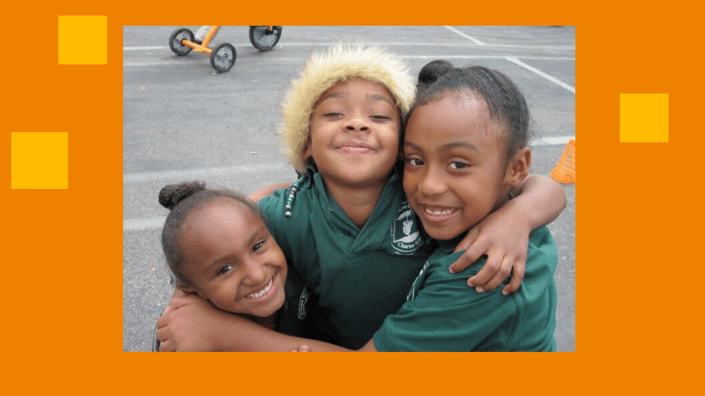 Students at Rosebud are expected to look beyond the four walls of the classroom, living into the school's vision "to develop well-rounded critical thinkers who will impact the world." Parents or guardians of Rosebud Academy students are also encouraged to engage with their child's learning, emphasizing reading support that is balanced by independent and collaborative study.
Rosebud Academy's additional emphasis on social and emotional learning, a cornerstone of the school's educational philosophy, has also helped to support students during the pandemic.

Check out this video featuring a student and the school's leader explaining how Rosebud Academy is making a difference:




Now let's take a look at the school's performance which is highlighted in CCSA's recent report Serving Black Students With Excellence: California Charter Schools Working to Close Opportunity Gaps:

Within the Pasadena Unified School District, approximately 12 percent of students are Black, compared to Rosebud Academy's 58 percent.

Rosebud Academy is the highest performing charter for Black students in the Pasadena Unified School District, with its enrollment made up of 58% Black students compared with the District's 12% makeup. In the most recent year of state testing, Black students in Pasadena Unified performed similarly to the state average for Black students, scoring 41 points below the met standard in English Language Arts, and 82 points below the met standard in Math.

At Rosebud however, the opportunity gap is closing, with Black students performing closer to the met standard in both subjects than the state average. While there is still more work to be done to ensure students are consistently meeting academic standards in ELA and Math, the performance differences are clear.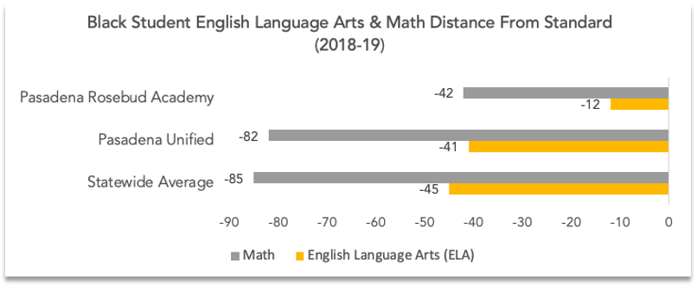 According to educational leaders at the school, there are three key factors contributing to the schools' sustained success:

STRONG ENGLISH LANGUAGE ARTS FOCUS
According to Rosebud Academy's Director Shawn Blumfield, "reading is the foundation to all other learning" and if students are strong readers, they will have the critical thinking skills that will allow them to find success in all other content subject areas. And with parents or guardians being expected to actively participate in the learning process, the school challenges them to become reading partners alongside their children so they can create a positive cycle of academic success that will be passed on from generation to generation. Reading Logs are an essential part of holding students and parents accountable at the charter school, and students are required to read nightly along with their parents or guardians and complete the log to show progress made.

CULTURALLY RELEVANT INSTRUCTION
Rosebud Academy teachers and staff are committed to the belief that diversity makes their school, community, state and nation strong. They exemplify this by intentionally and meaningfully heightening awareness of different cultures and ethnic backgrounds that make the country what it is today. Educational leaders at the school say cultural awareness begins by understanding culture, and that cultural awareness is essential to promoting racial harmony. As students learn about cultural differences, they celebrate commonalities and embrace life together, becoming a tighter community.

EDUCATORS OF COLOR
Rosebud Brumfield – a Black charter school leader – manages a team of eight teachers of color at the school. The school's intentional hiring practices aligns with a growing body of research that finds educators of color provide benefits to all students, especially to Black and Latinx students.

According to a 2018 study released by the Learning Policy Institute, entitled "Diversifying the Teaching Profession," teachers of color boost the academic performance of students of color, resulting in improved reading and mathematics test scores, improved graduation rates, and increased aspirations to attend college. This is no more apparent than at Rosebud Academy.

When assessing the success of Rosebud Academy, it is clear that the school is yet another shining example of Serving Black Students with Excellence in the State of California. We look forward to seeing even more to come in their efforts to close the achievement gap for Black students.
---
Check back to the CharterNation Blog next Monday when we wrap up our month-long "Serving Black Students With Excellence" series with a panel discussion about the importance of recruiting and retaining educators of color within California public schools.